What happens when four tired moms, three brunettes, and two comedians walk into a kitchen to cook for a picky eater? Okay, being brunette (or even a comedian) doesn't matter here, but it made us laugh, which is what we're doing this week: laughing in the face of picky eating with the ladies of What Fresh Hell podcast. And just like with all things in life, through humor, we find wisdom.
This post may contain affiliate links, for which we make a small percentage of sales on products we recommend.
What to Say to Do-Gooders & Other Picky Eater Parenting Tips
Having covered picky eating three times now (see Is Picky Eating Real?, Looking For Picky Eater Help? You Won't Find It In a Recipe, and Picky Eating: The More You Stress, the Worse It Gets), we decided to take a round-table approach to this episode. And who better to sit around our proverbial table than Margaret and Amy of What Fresh Hell: Laughing in the Face of Motherhood, one of our favorite parenting podcasts.
Not only do these ladies have six kids between them, several of whom are picky eaters and also older than ours (a glimpse from the future!), they also approach things differently than each other, giving us a wider scope on picky eating than we've ever had before.
In sharing all of our experiences — and hilarious stories — we not only get to laugh, but also share practical thoughts on the root of picky eating, whether knowing the root of the issue matters, how to deal with people who dole out unsolicited advice, and keeping sanity-saving mantras in mind as you cope with your child's fussiness. (Sanity-saving spoiler alert: in the end, it's not that big a deal and most people are trying to help, not judge, you.)
Amy & Margaret of What Fresh Hell
The What Fresh Hell podcast (one of our favorites!) regularly ranks at the top of the Parenting and Kids and Family charts on Apple Podcasts, and is nearing two million lifetime downloads. In each episode, Margaret and Amy discuss a parenting topic from their usually-completely opposite perspectives.
Amy Wilson is the author of When Did I Get Like This? The Screamer, The Worrier, The Dinosaur-Chicken-Nugget Buyer, and Other Mothers I Swore I'd Never Be (HarperCollins) and of Mother Load, a one-woman show which she toured to 16 cities after its hit off-Broadway run. She appeared as a series regular in two sitcoms (Daddio on NBC and Norm on ABC) and wrote and performed sketch comedy for NBC's Live on Tape, which filmed in Saturday Night Live's studio 8H. She and her husband live in New York City with their three kids.
Margaret Ables is a comedian and writer whose work has appeared on MTV, Comedy Central, Nickelodeon, and PBS. Margaret created television shows for Klasky Csupo (creators of Rugrats) and was the head of video production for Nickelodeon's mom-centric channel NickMom. Margaret also teaches improv and public speaking in correctional facilities for the non-profit organization Rehabilitation Through the Arts. She and her husband live in Westchester, NY with their three kids.
Find What Fresh Hell on Instagram as @whatfreshhellcast.
---
Get Bonus Content!
Did you know that we have a newsletter in which we share bonus content every single week? Like FREE recipes. Just for you! So far, subscribers have gotten a bonus recipe from Catherine McCord's smoothie book, a recipe for lower-sugar Chocolate Cake with Whipped Chocolate Frosting from Jennifer Tyler Lee's new book, Half The Sugar, All the Love, Meghan's Baked Falafel, Stacie's Indian-Style Turkey Meatballs, and MORE!
Sign up now to make sure you don't miss out!
---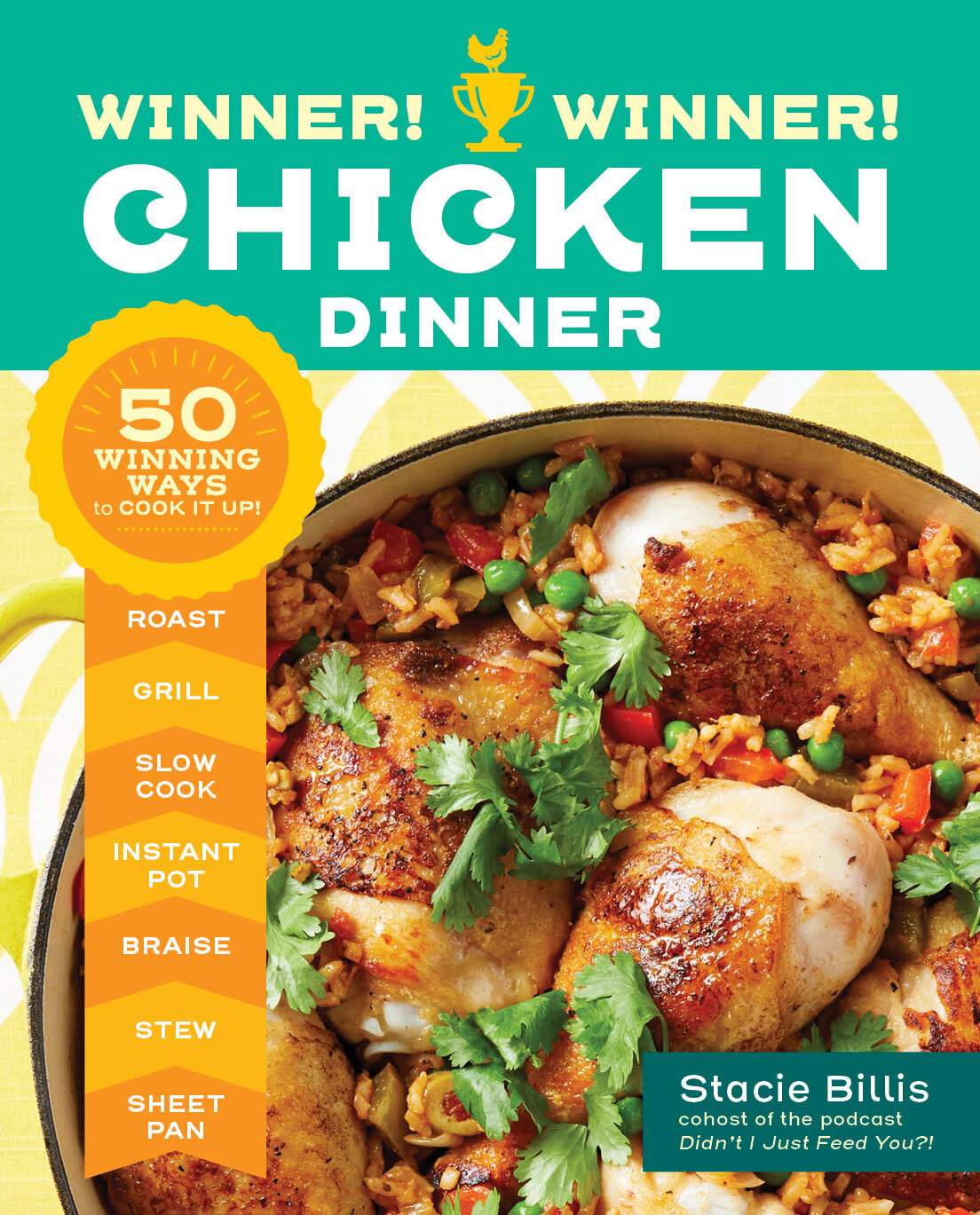 Stacie's New Book!
Did you guys know that you're buying 53 pounds of chicken per person per year. Y'all REALLY love chicken, and Stacie's latest cookbook is your new guide to cooking it perfectly!
Winner! Winner! Chicken Dinner: 50 Winning Ways To Cook It Up! is a collection of modern, vibrant recipes that solves dinner using America's favorite main protein.
Organized by method, this colorful collection offers fresh new chicken recipes (like Pineapple Chicken Salad with Green Beans and Toasted Coconut) and quick takes on classic dishes (from Chicken Adobo to an unexpected twist on Chicken Scaloppine) so that you can roast, grill, pressure cook, braise or sheet pan your way to dinner any night of the week.
It's also chock full of tips on everything from choosing healthy chicken, confusing labels be damned, to breaking it down like the home cook boss you are.
Preorder your copy now at:
---
Let's Be Friends
For more camaraderie and real-life strategy and tip swapping, join us in our private listeners' group on Facebook (our favorite cocktail is WHISKEY — you'll understand when you try to join).
You can also find us at @didntijustfeed you on Instagram and on Facebook at large. And if you happen to love us as much as we love you (we really do!), you can find Meghan as @meghan_splawn and Stacie as @staciebillis on Instagram.
---
Other DIJFY Episodes You'll Love