Feeding a tween? Stacie thought that by the time her kid was a tween, he'd be feeding himself just fine. But the unfortunate truth is that, developmentally speaking, tweens are much like toddlers — including picky eating tendencies.
The bigger problem? The way picky eating and freedom interact. It can be disastrous for a parent who cares if their rapidly growing tween, in the midst of one of the most important developmental spurts, gets food that actually nourishes them. And school lunch is the hardest meal of the day, since it's so thoroughly out of our hands and influenced by peers.
But all is not lost! This week we share the trials, tribulations and, most importantly, tips for making sure your tween eats a healthy lunch all school year long.
Packing Lunches for Tweens and Teens Gets Tricky
Stacie is chomping at the bit to talk about tween lunches — she's done her research and she's been on the front line with her 12-year-old.
Don't freak, but obesity rates for teens 12- to 19-years-old have tripled in the last 30 years, and disordered eating among teens is also on the rise. Research suggests that the food habits that take hold during the tween and teen years can predict eating habits into adulthood. So, joking aside, getting our tweens to eat a healthy (healthier?!) lunch kinda matters.
BUT! The good news is that despite longer periods of sitting with homework (and video games) and an increase in soda and junk food intake, the tween years are hungry years. And hungry can open up opportunities to expand your tween's palate.
Yes, seriously! We talk about how, and share lots of ideas for how to navigate school lunch in particular — including what to pack and how to pack it.
Easy Tween Lunch Ideas
The new lunch packing criteria? Efficiency, taste, eye-appeal, and peer-appropriateness. Which means no more cute bento boxes for the cool kids.
Easier said than done? Yup, we know, which is why we dig into specific ideas (love those leftovers!) and recipes. Listen for the full list of lunch box recipes and inspo, including tips on how and in what to pack your tween's school lunch. In the meantime, here are some links we mention:
---
ICYMI
Other episodes mentioned in this one:
Recent episodes:
Other lunch episodes:
---
I LOVE IT!
"What We're Digging" updated!
Looking for a bread alternative this lunch season? Stacie has recently discovered — and LOVES — Outer Aisle Gourmet cauliflower sandwich thins. They are low carb and super tasty. Just a quick heads up, though: they aren't dairy free.
Did you know that Meghan is a newly appointed PTA treasurer? It's true, and she wants you to know that Box Tops for Education has changed this year! Instead of clipping tabs, you can just download their new app and scan your receipts. BOOM!
---
Your Next Listen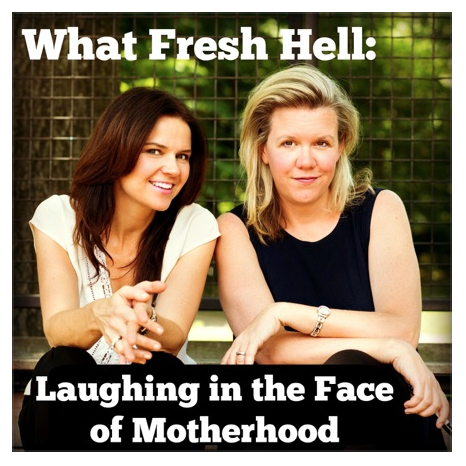 What Fresh Hell:
Laughing in the Face of Motherhood
Amy and Margaret are both comedians and moms of three, but that's where their similarities end. Margaret is laid-back to the max; Amy loves lists, research, and planning ahead. In each episode of What Fresh Hell they discuss a parenting issue from their usually-opposite perspectives, plus their accompanying expert advice that may — or may not — back them up.
With episodes like Do We Really Have to Play With Our Kids? and Help! My Kids Won't Eat Dinner, we know that you're going to love this listen.
Find Amy and Margaret as @whatfreshhellcast on Instagram and Facebook
---
Join Our Community
If you haven't already, make sure you subscribe to Didn't I Just Feed You on iTunes or wherever you listen to podcasts. Our back-to-school season is just getting started and there's lots of good content coming, a giveaway, and more!
We also hope you'll join our private Listeners' Group, which you can find through our Facebook page. There you can ask us — and hundreds of other listeners! — questions and even answer a few too. Because we know you know stuff! The answer to the question to join is whiskey or painkiller.
And of course there's Instagram, where we share even more tips and recipes. You can find us as @didntijustfeedyou together; Stacie is @staciebillis and Meghan is @meghan_splawn.