Not sure how to manage sugar in your house? Whether you're grappling with an approach to desserts, sugary snacks, your kid's attitude towards sweets, or wondering if it's even important that pay attention to any of this stuff at all, press play now. Because if there's one episode of Didn't I Just Feed You from which you'll walk away with a blueprint to take action, it's this one.
In our second of three episodes exploring sugar, renowned child nutrition expert Jill Castle brings more than just her years of expertise and research to the table. She also brings her life experience and common sense as a mom of four children. And that's Jill's magic: How she interprets the latest data through the lens of REAL family life.
Every bit of what Jill says is shared mom-to-mom, yet still manages to be a concrete expert tip shared without judgement. Even when Stacie decides she's been managing dessert all wrong in her house — for years. But it's cool, because Jill walks her through what to do. And also shares tips for parents with kids of all ages so that you'll walk away knowing what to do too.
Natural Born Self-Regulators
The idea that we kill our children's abilities to regulate their food and appetites is a little dramatic, we know. But you also know us by now, and we like the drama.
Plus, there is truth in drama.
One of the most powerful things that Jill shared with us in this interview is that there is no one trick, one answer, one thing she can tell us all to do about sugar — or any aspect of feeding our kids — that we can use successfully forevermore. Rather, every family needs a comprehensive strategy that works for them, and that strategy will depend on each families' goals, values, personalities, and parenting styles.
So then how can you listen to an hour of Stacie and Jill speaking and walk away with a blueprint for coping with sugar in your house? Because you're the one with the answers. And Jill serves up useful advice and practical tips for how you can shape your comprehensive strategy.
The BIG tip that Jill shares around sugar and sweets is her 90/10 rule, which she details in her conversation with Stacie. She also explains that it might be 70/30 for some families; it's a flexible rule that depends on where you've started in the first place. (It's this flexibility that we love so much about Jill.)
Jill also shares tips around snacking, including snack strategies and suggestions for kid athletes; ideas for dealing with dessert; thoughts on how to talk to kids about sugar and desserts in general, including how to pivot if you feel like you need to change your approach, the way Stacie does; and how to reframe the way you think about food so that you're aligning with the health research, but also living realistically and with #foodjoy.
Because like us, Jill thinks the world would be a sad place without any sugar.
Yet, the bottom line is that we need to teach our kids moderation and empower them to self-regulate without demonizing foods while they are growing up in a world where there is a complete overload of sugar hurled at them everyday.
Jill's common sense approach speaks to us, and we think it'll speak to you too.
More About Jill Castle
A handful of child nutrition experts have influenced our work and shaped our personal perspectives on feeding our families, and Jill Castle is among them. Her book, co-authored with Maryann Jacobsen, Fearless Feeding: How to Raise Healthy Eaters from High Chair to High School, remains one of our favorites on the subject of feeding kids for its balanced and non-judgemental approach. And while there are other experts whose work we admire, including Ellyn Satter, who Debbie Koenig mentioned in our interview with her on picky eating, we love that Jill continues to research for writing and do hands-on work with families to this very day.
In fact, Fearless Feeding has been completely updated and enhanced. We're thrilled to share that a second edition is soon to be released. (Check out the new cover!)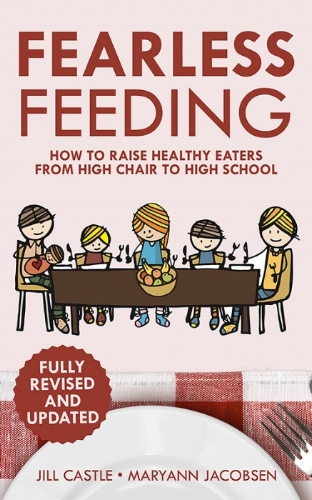 That Jill is constantly updating her work and currently practices her "whole-child" approach was important to us, especially for discussing sugar, a topic for which it seems there's new data coming out monthly. We also love that Jill loves food — including sweets! — and that she has expertise in feeding kid athletes too. All of these factors felt important for a fair, even, real-life conversation about our sugar intake.
If you liked Jill as much as we do, you should consider digging deeper into her many resources. If you go on to her site, she suggests that you start here to get an overview of what she offers, both as free resources and also services. We think her podcast, The Nourished Child, is a great listen with topics like Should You Ask Your Child What He Wants To Eat?, How to Raise Middle School Girls Who Eat, and Nutrition Myths for Young Athletes Demystified. Also, her Nutrition Prep School is an amazing resource.
---
What We're Digging
Stacie is finally in a groove in her kitchen after a a rough back-to-school season. (Yes, it took a full month-and-a-half to get in the swing of things.) With her fridge fully re-stocked again, she has also re-discovered her love for Grana Padano cheese (which by the way, is naturally lactose-free).
If you're unfamiliar with the hard, Italian cheese, it's quite similar to Parmesan, with a sharp, nutty flavor. Though more mild than Parmesan, the two are pretty much interchangeable in the home kitchen, and Grana Padano comes at a much more affordable price, making it a better option for most home cooks.
Just like with Parmesan, though, look for the real deal imported from Italy!
Well, at least she's honest! Our self-professed sweet tooth, Meghan, kicks off our second episode on sugar by encouraging everyone at home to try her new favorite chocolate bar.
Usually a fan of sweet and salty chocolate, Meghan was surprised to fall for this Dark Chocolate Huckleberry Bar by Happy Day Brands, a socially conscious brand of sustainable coffees, chocolates, superfoods, and teas. Not too sweet and just tart enough, this vegan dark chocolate bar is a new and cherished part of her super secret grown-up only stash.
Which brings us to a question: What's your favorite grown-up only chocolate bar? Let us know in our Didn't I Just Feed You Listeners group on Facebook. When you request to join, you'll be asked what our favorite cocktail is, and by now, you know how much we like whiskey, right?
---
Try This At Home
This week's Try This At Home comes from our guest Jill Castle and, like all of her tips, is easy and straightforward. This week, Jill encourages us to redefine dessert. Or at least to expand the definition.
Yes, cookies, cake, and ice cream still count, but begin laying the groundwork so that simpler, healthier options can also count as dessert sometimes too. Think yogurt with honey and fruit, a low sugar smoothie, or no-sugar added apple sauce with cinnamon.
Or maybe moving the needle in your house is swapping store-bought cookies for a batch that you bake with the kids with less sugar. Just reduce the sugar in the recipe! Or look for recipes from next week's guest, Shauna Server, who's an expert in baking with less and natural sugars.
We've got great news if you're interested in Jill's Nourished Child Project self-study program, an online program with five modules that you can go through at your own pace and includes a new food system for your kids and family, concrete strategies, membership to a private Facebook group, and more. Jill has generously offered DIJFY listeners 30% off with the code 33OFF. To take Jill up on her offer, sign up here! Thank you, Jill!