Let's be honest: We all love crispy, breaded chicken. Yet chicken nuggets, as they've been dubbed by the fast food industry, have become the symbol of "kid's food," and not in a good way. But we don't love nuggets because we're American and have been weaned on fast food. We love them because they're delicious. — and we're not alone.
Nearly every cuisine has a version of this simple dish, from Italian Chicken Milanese to Japanese Chicken Katsu, and these dishes are not considered just kids' food in other countries. (Or here, in the U.S., when we eat them out, for that matter.) So this week, Stacie and Meghan are reclaiming chicken nuggets… or strips, or fingers, or cutlets. We go over everything from the merits of keeping frozen nuggets on hand to pro-tips on how to make yours homemade as quickly and inexpensively as possible. Because we're taking back this "kids food" to restore peace and equilibrium at the family table. And because, yea, we want to eat some crispy breaded chicken too.
The Problem with Calling Nuggets "Kids Food"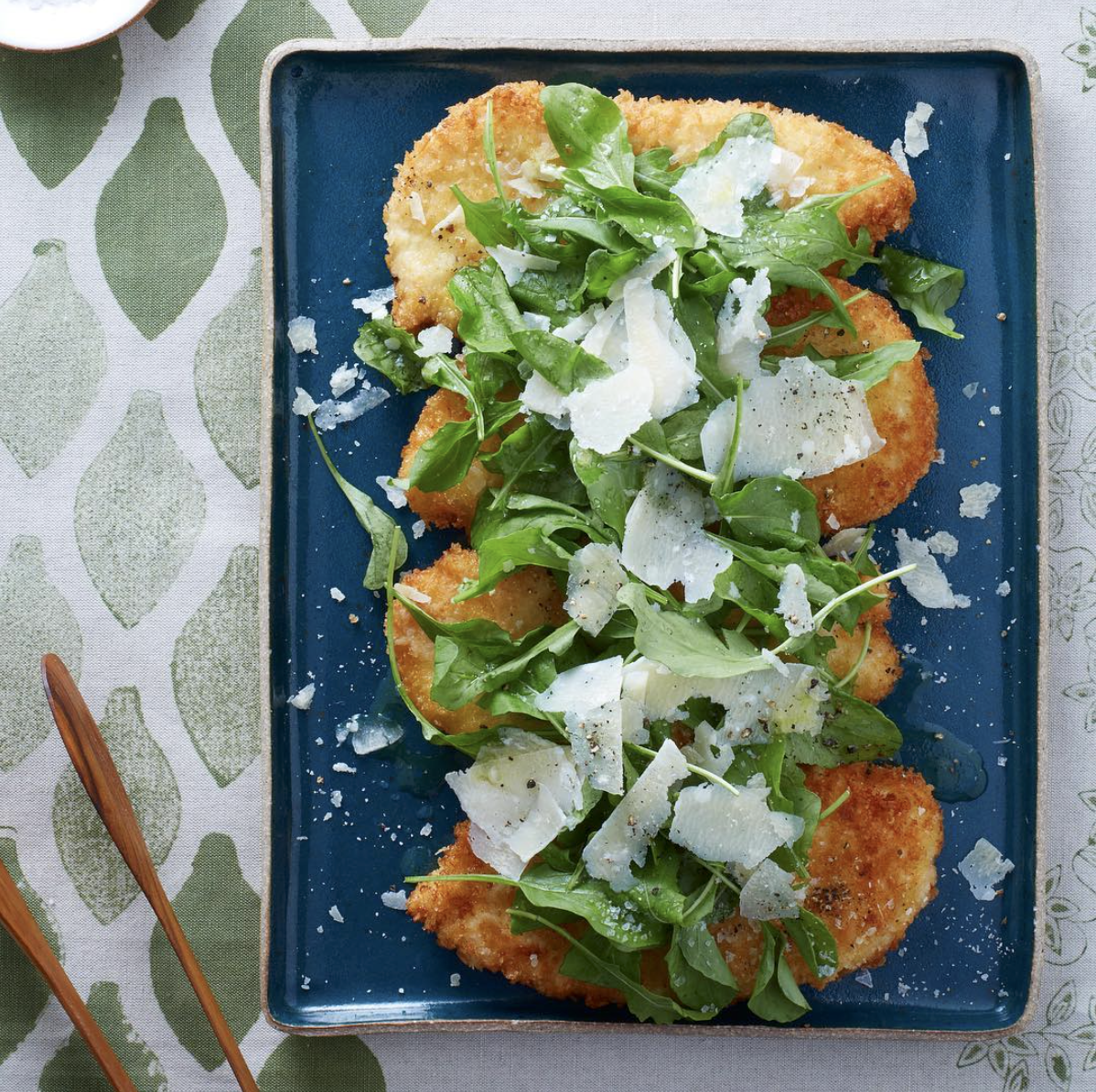 Things get a little heated when Stacie reveals that she has never bought frozen chicken nuggets (apparently she's team hot dogs for quick meals) and Meghan declares her firm belief that every parent should have a go-to frozen nugget. But peace is restored when the both agree that, whether or not you keep frozen on hand, you should find a DIY recipe that you love.
Yes, even those of you who are totally satisfied with your frozen nuggets.
Why? Because, ultimately, homemade is healthier, tastier (like, wayyyyy), and more affordable when done right. And, yes, we know that it takes more time, but less so than you may think if you find the right recipe and approach. And that's what this episode is all about.
Trust us.
If you go all in on the DIY approach like Stacie, great! She's got other ideas for what you can cook on nights when you need a 10 minute dinner win. And, if like Meghan, accepting homemade chicken nuggets does not mean giving up frozen, here are her suggestions:
Everything You Need to Know to DIY Nuggets
Our debate over whether or not you should keep frozen nuggets on hand aside, we want every home cook to feel equipped to make homemade crispy, breaded chicken, because it's truly one of the great home cooked meals. From how to buy the right cuts of chicken to how to flavor the breadcrumbs, we go over everything you need to know to DIY your nuggets… or strips or fingers or cutlets or whatever you want to call them.
We start with what cut of meat to use: Breast meat is the way to go, though Meghan has experimented with chopping flavorful chicken thigh meat to form nuggets. Stacie prefers using cutlets (or strips), and though Meghan agrees that there are merits, she makes nuggets.
How to bread your chicken: Listen for why each of us uses a different cut of chicken, and the implications that each cut has on how we bread our chicken — because, yes, there are different methods and they impact the amount of time you'll spend prepping.
How to save money and reduce food waste: We also share pro tips on how can you save big on buying chicken if you're going the DIY route, and even use scraps to make other things like broth. Use it all up!
We also go over and mention:
Why it's safer to buy air-chilled chicken

A can't-miss shortcut if you're new to making chicken nuggets at home

How to butterfly a chicken breast to make a thinner cutlet, including a trick for how to keep your knife from slipping
---
What's up Stacie Billis?!
Meghan and Stacie catch up
Meghan wants to know why Stacie has been off Instagram in January, and we both touch base about how social media feels in the age of oversharing, anxiety, and parenting.
For updates (when they feel like it — ha!), follow Stacie @staciebillis and Meghan @stirandscribble both. And of course, together, they are @didntijustfeedyou.
I Dip, You Dip, We Dip
In this episode's lighting round, Meghan shouts outs her favorite dips for chicken nuggets, and Stacie waxes poetic about the beautiful salads and slaws that you can pile on top of your crispy chicken cutlets.
---
Follow us on Facebook and Instagram (we're @didntijustfeed you on both) to chime in on this week's conversations (and more!):
Are you team frozen nugget or team hot dog?!
What's your fave tea? Meghan shared hers, the one she mentioned loving!