Reducing food waste is top of mind for all of us, but it's also a loaded topic. Taking food waste on can feel so damn big. And having another big thing to do is the last thing we need ever, but especially right now. So this week, we whittled it down to two manageable habits that can make a big difference.
This post contains affiliate links, we may make a small percentage on products we recommend.
Two Habits Anyone Can Take On
Right around this time last year, we spoke with Roe, formerly of Brown Kids Living, about how to reduce food waste and save money at the same time. With Earth Day having just passes and home quarantine impacting most of the country, we decided to take stock again.
In this year's conversation about food waste, we've focused on two strategies that we think nearly everyone can implement that make a huge difference: storing food properly so that it lasts longer and making use of your food scraps.
Plus, how helpful are both of these strategies right now when we're trying to use everything up and go to the supermarket as infrequently as possible?
Very.
And, hey, don't forget our weekly recipes! Meghan shares her recipe for broccoli stalk pesto below (use up those scraps!) and be sure you're subscribed to our newsletter to get the recipe for Stacie's pink milk , which also uses up strawberry scraps.
Links mentioned in our conversation:
---
Let's Be Friends
Be sure to join our private Listener's Group on Facebook (our favorite cocktail is WHISKEY — you'll understand when you try to join). This week, we'll be gathering more ideas on how to reduce food waste from our listener hive mind!
Also, don't forget to sign up for our newsletter to make sure you don't miss a thing. This week, Stacie is sharing the pink milk recipe she mentioned. YUM!
You can also find us at @didntijustfeed you on Instagram, Facebook at large, and Pinterest. And if you happen to love us as much as we love you (we really do!), you can find Meghan as @meghan_splawn and Stacie as @staciebillis on Instagram.
---
A Very Special Thanks to Our Sponsor, Milk Life
Milk is among the most essential ingredients in both of our kitchens. Proof? This week's Pink Milk recipe in our newsletter! So we couldn't be more excited to team up with Milk. Love What's Real for a very special Mother's Day episode next week.
Be sure you're subscribed so that you don't miss our upcoming conversation with Chef Claudette Zepeda, a badass mom of two, restauranteur, former Top Chef contestant, and an inaugural member of the BuzzFeed Tasty team.
In our conversation, Claudette shares fantastic recipes, tips, and traditions from her own Mexican family that can help us keep Mother's Day simple, but very much alive. Because we mamas deserve a celebration.
ESPECIALLY this year!
We also answer all those burning questions y'all having been asking about milk in the Listener's Group, from whether you can freeze it to substitutions for when you (gasp) run out.
Visit MilkLife.com for recipes made with real milk, and be sure to follow @milk on Facebook, @milklife on Instagram, and @milklife on Twitter to get more tips and cooking inspo. Don't forget to use #LoveWhatsReal!
---
Other Episodes You'll Love
---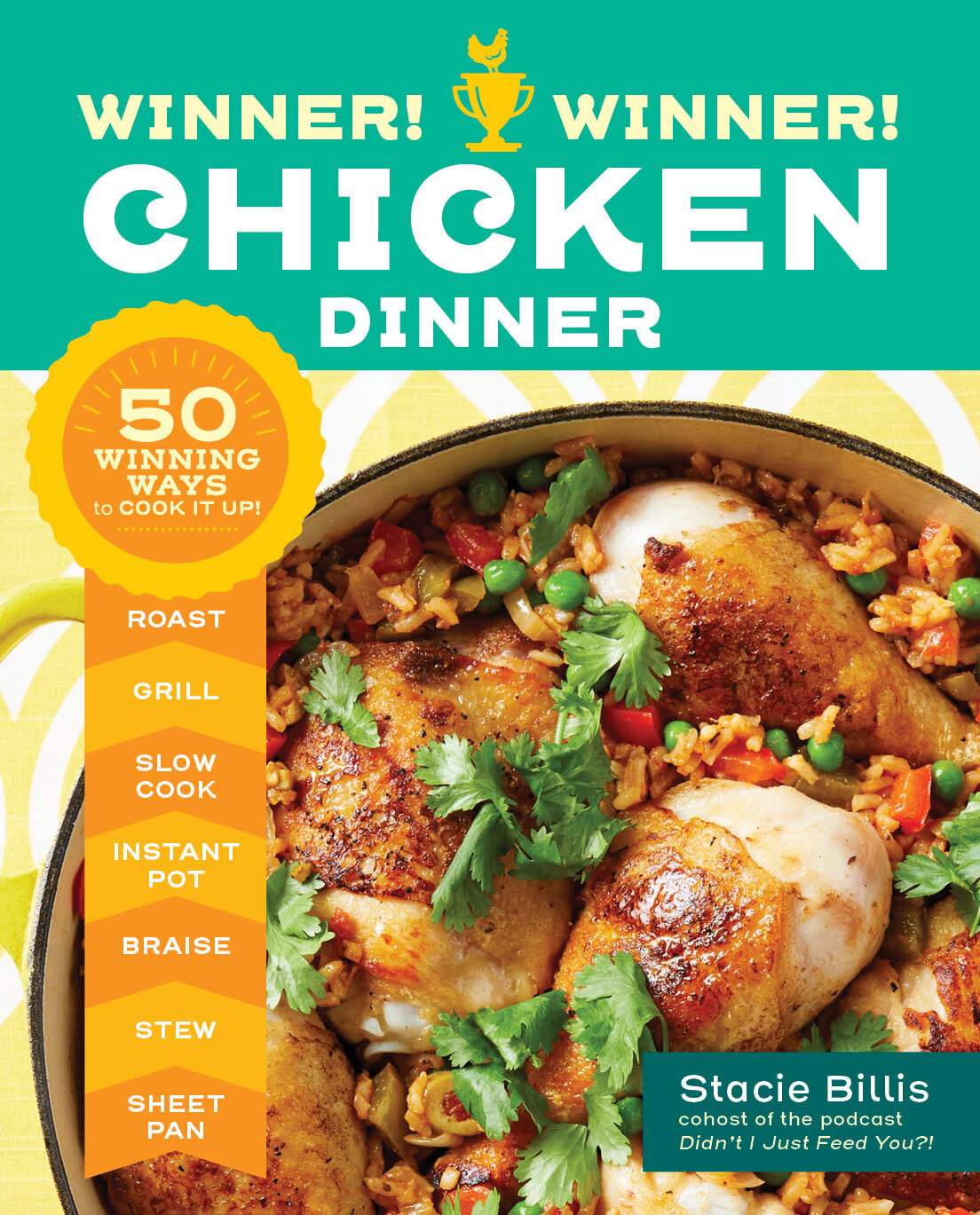 Out THIS WEEK!
Did you guys know that you're buying 53 pounds of chicken per person per year. Y'all REALLY love chicken, and Stacie's latest cookbook is your new guide to cooking it perfectly.
Winner! Winner! Chicken Dinner: 50 Winning Ways To Cook It Up! is a collection of modern, vibrant recipes that solves dinner using America's favorite main protein.
Organized by method, this colorful collection offers fresh new chicken recipes (like Pineapple Chicken Salad with Green Beans and Toasted Coconut) and quick takes on classic dishes (from Chicken Adobo to an unexpected twist on Chicken Scaloppine) so that you can roast, grill, pressure cook, braise or sheet pan your way to dinner any night of the week.
It's also chock full of tips on everything from choosing healthy chicken, confusing labels be damned, to breaking it down like the home cook boss you are.
Preorder your copy now at: