Y'all buy a lot of chicken, but also seem to be on a never-ending search for more — and better! — chicken dinner recipes. So leave it up to our very own co-host, Stacie, to help solve the problem and make dinner easier. In her latest cookbook, Winner! Winner! Chicken Dinner, Stacie shares 50 recipes and tells you everything you need to know to help you turn all that chicken into winning dinners. And she spills the most helpful tidbits in this episode.
This post contains affiliate links, we may make a small percentage on products we recommend.
The Chicken Lady
File this under things Stacie never thought she'd say! But here we are: with you all buying 53 lbs of chicken per person per year and Stacie hoping to help you make the most of all that poultry.
If you're a regular around here, it's no secret that Winner! Winner! Chicken Dinner: 50 Winning Ways to Cook It Up!, Stacie's second cookbook, is publishing on April 28th. But this week's conversation is more than just a plug.
Take a listen to hear Stacie spill the most important tips for choosing quality chicken and cooking it correctly. She covers all the basics and even gives tips for how to deal with the fact that, right now, you may not be able to find the brand or cuts that you're used to buying.
Here are links from this week's conversation:
Other DIJFY Episodes You'll Love
---
Get Bonus Content!
Did you know that we have a newsletter in which we share bonus content every single week? Including free recipes just for you!
Sign up now to make sure you don't miss out!
---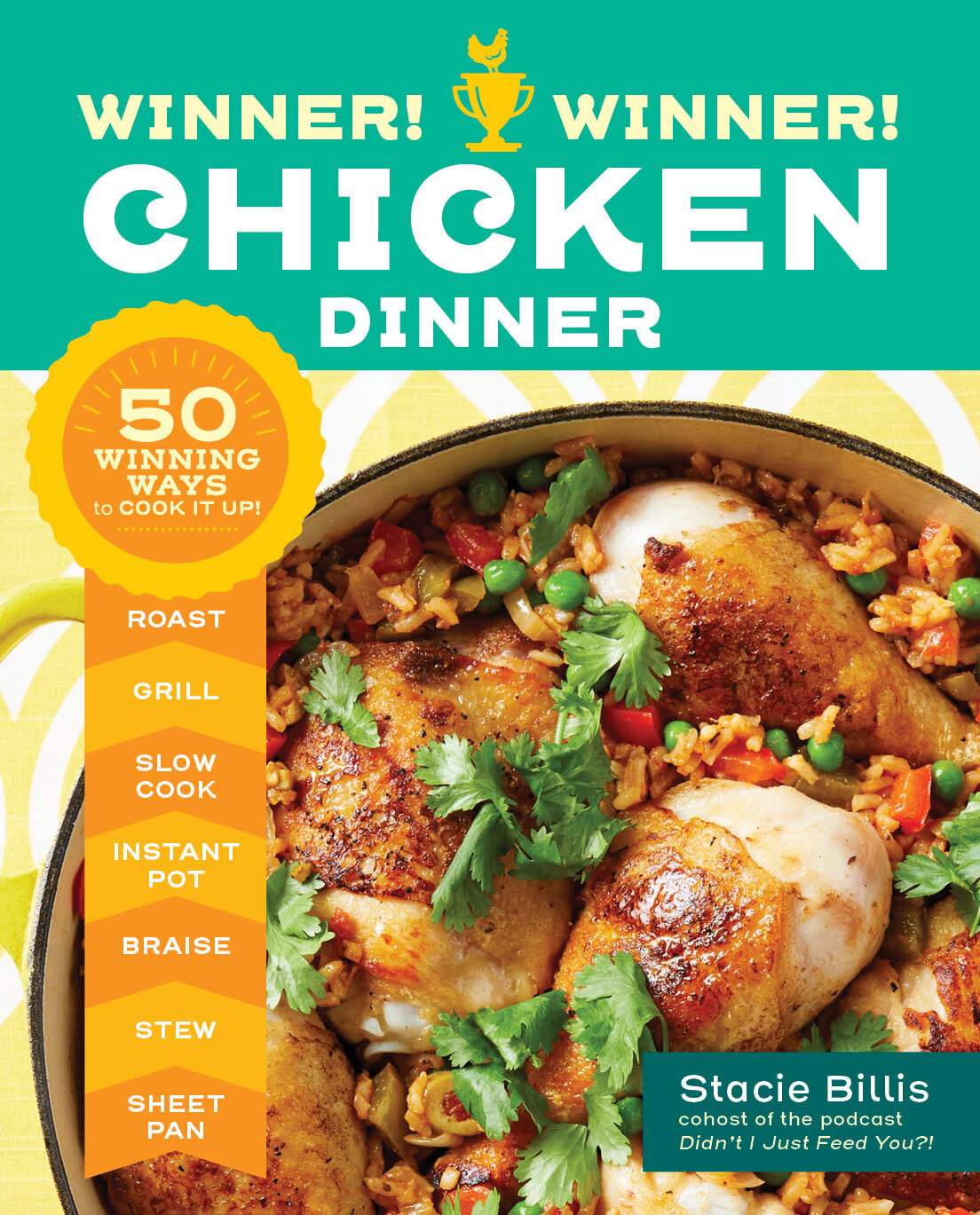 Get Your Copy NOW
Winner! Winner! Chicken Dinner: 50 Winning Ways To Cook It Up! is a collection of modern, vibrant recipes that solves dinner using America's favorite main protein.
Organized by method, Stacie's colorful collection of chicken recipes will help you roast, grill, pressure cook, braise or sheet pan your way to dinner any night of the week. Think: Pineapple Chicken Salad with Green Beans and Toasted, Sheet Pan Chicken Caprese, Instant Pot Chicken Adobo, Chicken Parmesan Meatballs, Green and White Chicken Chili, Sticky Peachy Sriracha Wings AND MORE!
It's also chock full of tips on everything from choosing healthy chicken, confusing labels be damned, to breaking it down like the home cook boss you are.
Order your copy now at:
---
Let's Be Friends
Be sure to join our private listeners' group on Facebook (our favorite cocktail is WHISKEY — you'll understand when you try to join). This week, you can hop in there and ask Stacie ALL of your chicken questions. She's there! And available! (With Meghan, too, of course!) Join now.
You can also find us at @didntijustfeed you on Instagram and on Facebook at large. And if you happen to love us as much as we love you (we really do!), you can find Meghan as @meghan_splawn and Stacie as @staciebillis on Instagram.