How many of you have gotten partway through cooking dinner and thought, "OH S#!T! What else are we going to eat with this?" Since we're pretty sure the answer is all of us, we're getting serious about side dishes. Whether you are a planner, committed to becoming one, or will always and forever wing your side dishes, we've got the tips, ideas, and of course, recipes, to make sure you can always pull together a complete meal.
This post contains affiliate links, we may make a small percentage on products we recommend.
Say Goodbye to That "Oh, S#!T?!" Feeling
It's hard enough to plan a main, nevermind when you have to also think about what goes on the side.
While we're proponents of skipping sides when you just can't, or even better, throwing everything into a hearty one-pot or sheet pan meal, we also know how satisfying it can be to serve a well-rounded meal. Sides add heft to your meal, they give those picky eaters more choices, and you make sure to hit all the basic nutrition marks (more or less – ha!). Also, it's fun to experiment with sides!
That is, when you have the right tips, tools, and reference recipes at your fingertips. And this week, we give all of those to you.
Here are links mentioned in our conversation:
Other Episodes You'll Love
---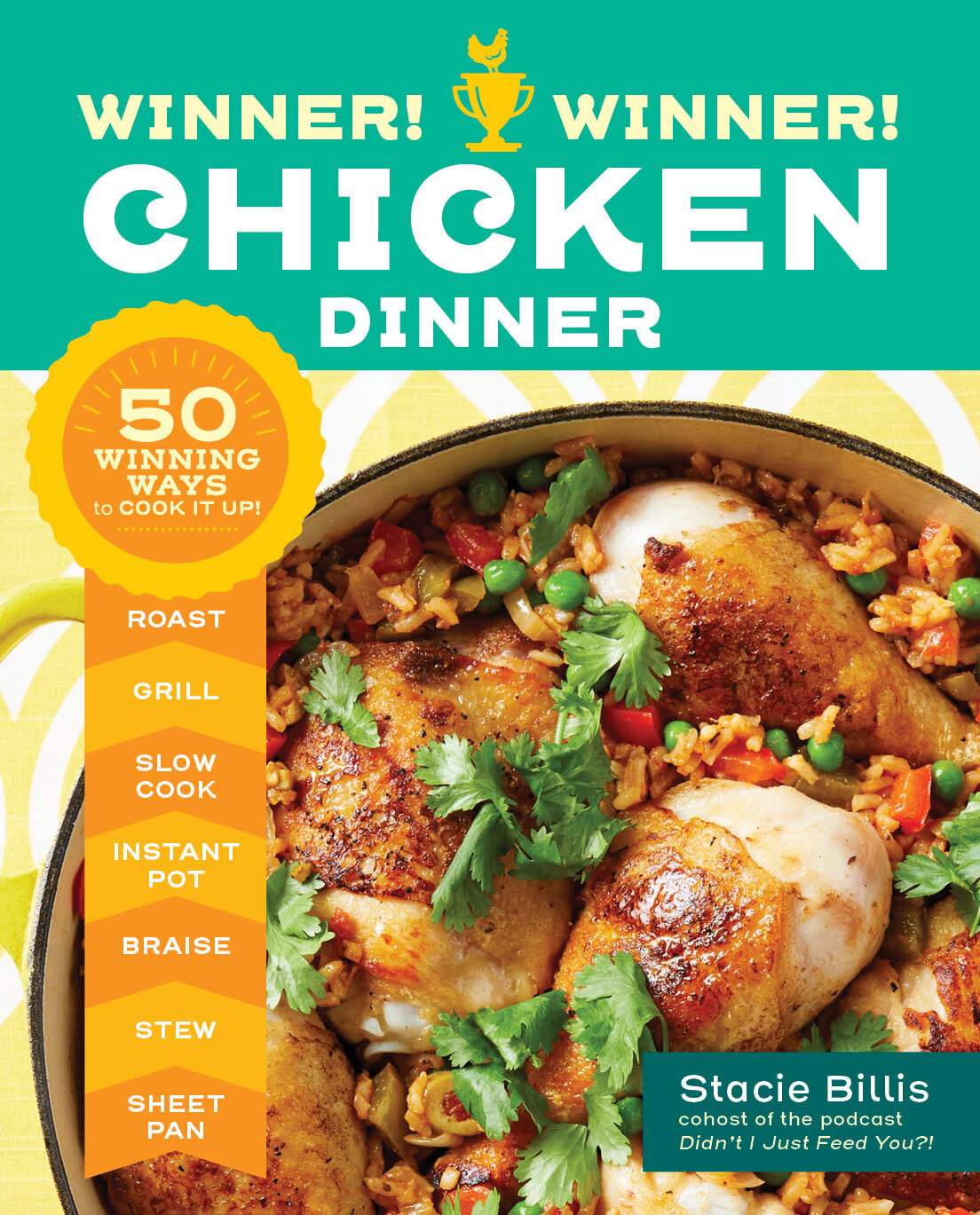 Stacie's New Book!
Did you guys know that you're buying 53 pounds of chicken per person per year. Y'all REALLY love chicken, and Stacie's latest cookbook is your new guide to cooking it perfectly.
Winner! Winner! Chicken Dinner: 50 Winning Ways To Cook It Up! is a collection of modern, vibrant recipes that solves dinner using America's favorite main protein.
Organized by method, this colorful collection offers fresh new chicken recipes (like Pineapple Chicken Salad with Green Beans and Toasted Coconut) and quick takes on classic dishes (from Chicken Adobo to an unexpected twist on Chicken Scaloppine) so that you can roast, grill, pressure cook, braise or sheet pan your way to dinner any night of the week.
It's also chock full of tips on everything from choosing healthy chicken, confusing labels be damned, to breaking it down like the home cook boss you are.
Preorder your copy now at:
---
Let's Be Friends
Be sure to join our private listeners' group on Facebook (our favorite cocktail is WHISKEY — you'll understand when you try to join). This week, we'll be continuing our side dish recipe share.
Don't forget that this week we also started a SIDES Pinterest board for you. So all those recipes we share with each other in the Listener's Group will end up there for easy record keeping!
You can also find us at @didntijustfeed you on Instagram and on Facebook at large. And if you happen to love us as much as we love you (we really do!), you can find Meghan as @meghan_splawn and Stacie as @staciebillis on Instagram.