We love pantry meals all the dang time, but are loving them even more right now. In this episode, we're talking through pantry basics, from pasta to puff pastry, and sharing over 100 ideas for how to use them with things you likely already have in your fridge, freezer, and cupboards to make easy, nourishing family meals.
This post contains affiliate links, we may make a small percentage on products we recommend.
Pantry Meals for Any Time
We recorded this episode just before major states like California and New York cancelled school and large gatherings. We honestly could not have imagined that measures would need to get so drastic and that so many Americans would, just days later, be asked to shelter in place.
So while we reference COVID-19 and what we thought might become a reality for a small handful of folks, we did not record this as a pandemic response episode. But here we are.
The tips, ideas, and products mentioned in this episode are especially relevant in this very moment, but we believe that they are a great resource all of the time. Because every busy home cook knows that nothing is more valuable than a delicious meal you can quickly scratch together from your pantry.
Here are links from this week's conversation:
Other DIJFY Episodes You'll Love
---
Get Bonus Content!
Did you know that we have a newsletter in which we share bonus content every single week? Like free recipes. Just for you! So far, subscribers have gotten a bonus recipe from Catherine McCord's smoothie book, Meghan's Baked Falafel, Stacie's Indian-Style Meatballs, and MORE!
Sign up now to make sure you don't miss out!
---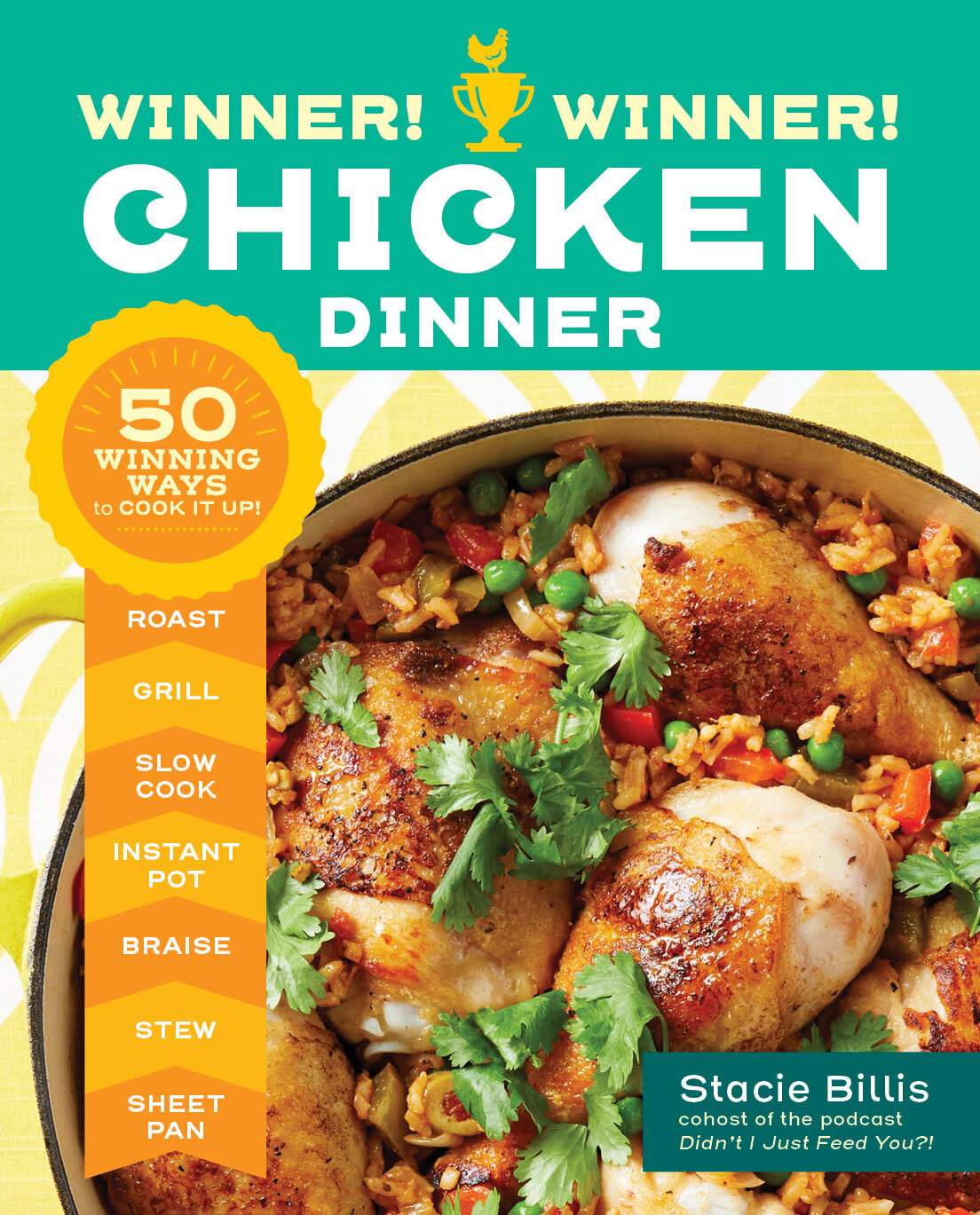 Stacie's New Book!
Did you guys know that you're buying 53 pounds of chicken per person per year. Y'all REALLY love chicken, and Stacie's latest cookbook is your new guide to cooking it perfectly.
Winner! Winner! Chicken Dinner: 50 Winning Ways To Cook It Up! is a collection of modern, vibrant recipes that solves dinner using America's favorite main protein.
Organized by method, this colorful collection offers fresh new chicken recipes (like Pineapple Chicken Salad with Green Beans and Toasted Coconut) and quick takes on classic dishes (from Chicken Adobo to an unexpected twist on Chicken Scaloppine) so that you can roast, grill, pressure cook, braise or sheet pan your way to dinner any night of the week.
It's also chock full of tips on everything from choosing healthy chicken, confusing labels be damned, to breaking it down like the home cook boss you are.
Preorder your copy now at:
---
Let's Be Friends
Be sure to join our private listeners' group on Facebook (our favorite cocktail is WHISKEY — you'll understand when you try to join). This week, we'll be sharing more pantry recipes and also hive minding recipes and ideas from the 1,000+ other members. (It takes a village!)
You can also find us at @didntijustfeed you on Instagram and on Facebook at large. And if you happen to love us as much as we love you (we really do!), you can find Meghan as @meghan_splawn and Stacie as @staciebillis on Instagram.
---
You asked, we delivered.
Or did we just want Cheese Me totes? Either way: they're available! Head to the Didn't I Just Feed You store on Society 6 to grab yours now. We'll have more products coming later this year, but get this baby STAT to help us bring cheesy back.