If the title of this episode already has you hot and bothered, it's probably because you know Kendra of the Lazy Genius, giver of tips on how to be genius about the things that matter and lazy about the things that don't. If cooking dinner matters to you, clean up is inevitable, so it only makes sense that we'd invite Kendra to talk to us about genius dinner clean up hacks. And oh boy, does she not disappoint.
This post contains affiliate links, we may make a small percentage on products we recommend.
No Dishwasher Tetris!
Making dinner clean up easy starts with what and how you cook, but it certainly doesn't end there.
This week, Kendra Adachi of The Lazy Genius shares all of her tips for making dinner clean up a snap, from how to choose recipes to getting the kids involved. And yes, you CAN get them involved in a way that actually helps — and she tells us how. Kendra even has a genius tip that ensures you will not be left playing dishwasher Tetris after the kids go to bed.
Rejoice!
Going into dinner with a strategy for keeping clean up to a minimum means that you can make dinner an opportunity to connect with your family without it also being an overwhelming job for you.
Y'all need to listen to this one. Kendra does not disappoint with super smart ideas that have already changed clean up in our kitchens.
Here are links from this week's conversation:
---
About Our Guest: Kendra Adachi
Kendra Adachi went to college to become a high school English teacher, but instead became the Lazy Genius, passionately and candidly sharing how to stop doing it all for the sake of doing what matters. Her work includes hosting The Lazy Genius Podcast, cooking dinner on Instagram (she's @thelazygenius), and convincing her three young kids that talking into the phone is Mommy's job. You can find Kendra at her site, The Lazy Genius Collective.
---
Get Bonus Content!
Did you know that we have a newsletter in which we share bonus content every single week? Like FREE recipes. Just for you! So far, subscribers have gotten a bonus recipe from Catherine McCord's smoothie book, a recipe for lower-sugar Chocolate Cake with Whipped Chocolate Frosting from Jennifer Tyler Lee's new book, Half The Sugar, All the Love, and MORE!
Sign up now to make sure you don't miss out!
---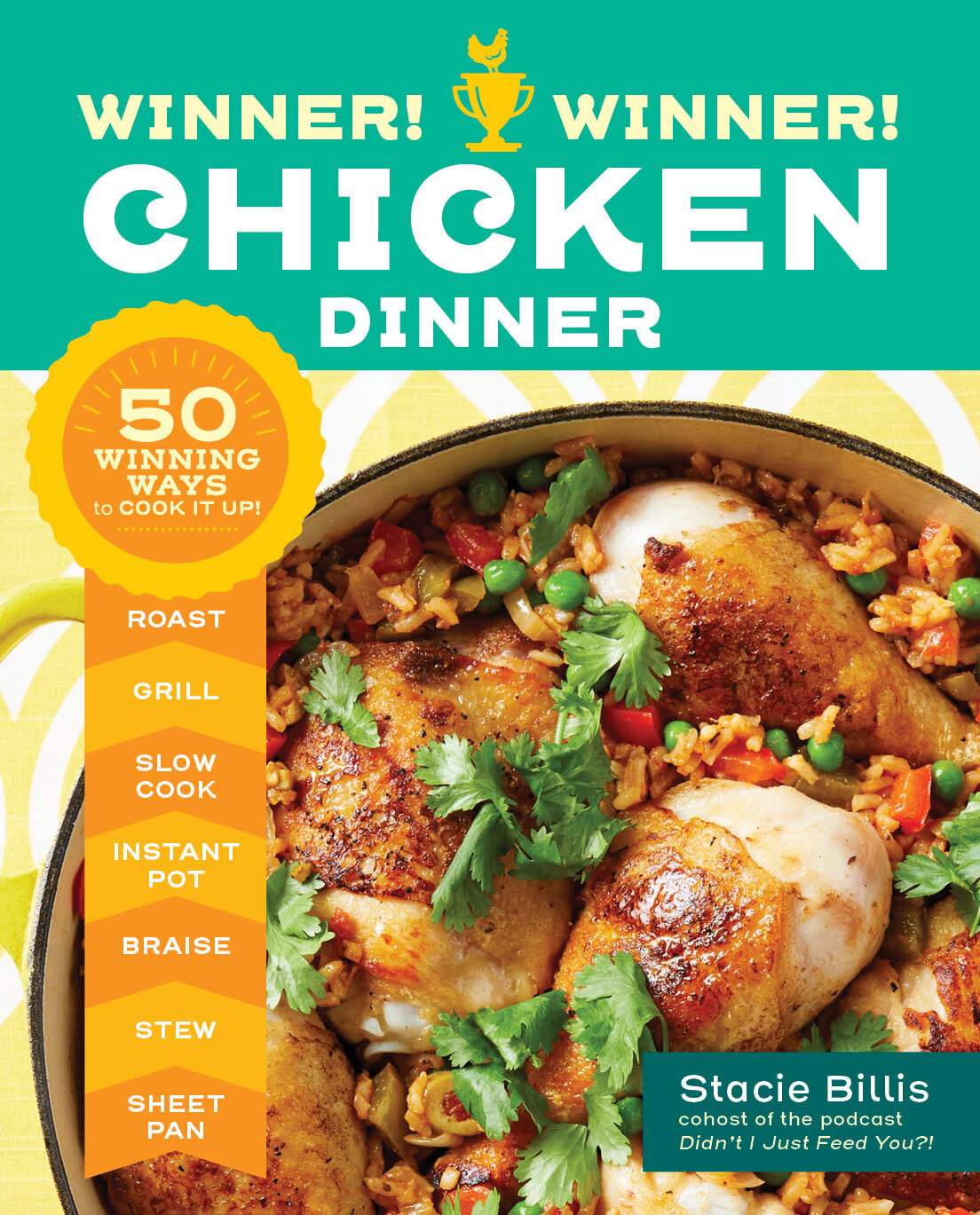 Stacie's New Book!
Did you guys know that you're buying 53 pounds of chicken per person per year. Y'all REALLY love chicken, and Stacie's latest cookbook is your new guide to cooking it perfectly!
Winner! Winner! Chicken Dinner: 50 Winning Ways To Cook It Up! is a collection of modern, vibrant recipes that solves dinner using America's favorite main protein.
Organized by method, this colorful collection offers fresh new chicken recipes (like Pineapple Chicken Salad with Green Beans and Toasted Coconut) and quick takes on classic dishes (from Chicken Adobo to an unexpected twist on Chicken Scaloppine) so that you can roast, grill, pressure cook, braise or sheet pan your way to dinner any night of the week.
It's also chock full of tips on everything from choosing healthy chicken, confusing labels be damned, to breaking it down like the home cook boss you are.
Preorder your copy now at:
---
Let's Be Friends
Well, licking the bowl is one way to keep clean up easy! For more smart ideas like these (ha!), be sure to join our private listeners' group on Facebook (our favorite cocktail is WHISKEY — you'll understand when you try to join).
There, you can join group member @kristaettles — the smart mama who came up with this IG quote! — and others as we share more super easy ideas for dinner clean up.
You can also find us at @didntijustfeed you on Instagram and on Facebook at large. And if you happen to love us as much as we love you (we really do!), you can find Meghan as @meghan_splawn and Stacie as @staciebillis on Instagram.
---
You asked, we delivered.
Or did we just want Cheese Me totes? Either way: they're available! Head to the Didn't I Just Feed You store on Society 6 to grab yours now. We'll have more products coming later this year, but get this baby STAT to help us bring cheesy back.
---
Other DIJFY Episodes You'll Love