One-pot meals are widely considered the most powerful tool in a busy home cook's toolbox. And we agree — when done right. "Dump and stir" meals run the risk of tasting as good as they sound (which is to say not good at all), which is why we invited one-pot meal expert Beth Lipton on to help us make sure that we do it correctly. And that starts with ditching the notion that you have to use a pot. Listen for more mind-blowing tips that ensure your one vessel meals are well balanced with great texture and taste.
— This week's episode is brought to you by Banza: See below to get your 20% off your Banza pasta order! —
One [ Fill In the Blank ] Meals
What's the big deal about one-pan meals anyway? For some, it's easy cleanup. For others, it's about having a simple formula that keep cooking mindless. For us, it's all of the above and the fact that using one vessel — a pot, a pan, or a sheet pan — doesn't have to mean sacrificing taste or texture. You just need a few tips, techniques, and expert strategies to use the right vessel the right away.
And this week, we've got 'em.
Links mentioned in this week's episode:
---
About Our Guest: Beth Lipton
Beth Lipton is a Brooklyn-based recipe developer, freelance food and wellness writer, and cookbook author. She's a graduate of the Natural Gourmet Institute health-supportive culinary school and studied health coaching at the Institute for Integrative Nutrition. Her recipes and writing have appeared in Clean Eating, Health, Paleo magazine, FoodNetwork.com, Travel + Leisure, Epicurious, Furthermore, Clean Plates, and more.
Find Beth on Instagram or Facebook. Her site, www.bethlipton.com, is also a great place to keep up with her.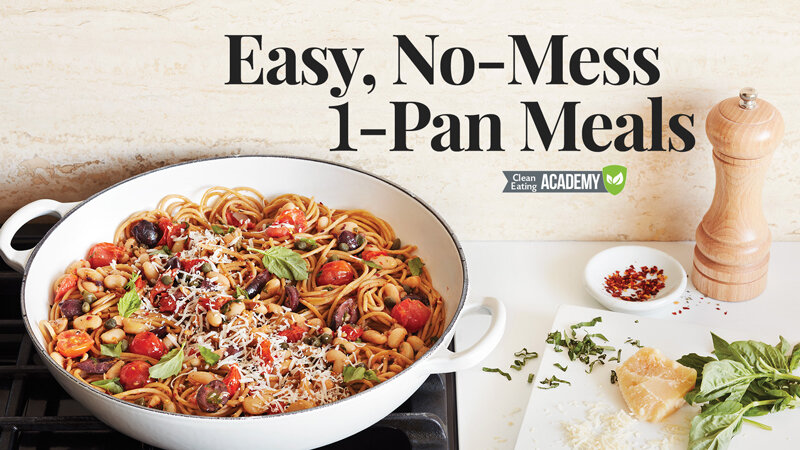 Beth has created an entire course with Clean Eating magazine that will help you master the one pot meal. Easy, No-Mess One-Pan Meals is brought to you by Clean Eating Academy and includes access to your courses with a computer, tablet or smartphone. It's self directed — so take the course when you want, where you want — and access to the videos, quizzes, and interactive content never expires!
The course costs $99, but use the code BETHSAVES for 30% off!
---
A One-Pot Magic Ingredient
For us, the perfect one pot meal isn't just easy to clean up, but it also serves up all the goodness of a well-rounded, multi-course meal, from protein to veg.
One of our favorite ways to accomplish this is by using Banza chickpea pasta for all of our pasta- and rice-based one pot dinners. It cooks and tastes like regular pasta, but serves up nearly double the protein and three times the fiber. One pot dinner magic!
You don't have to take our word for it: try our One-Pot Cheesy Sausage and Rice and we promise you'll be hooked too!
To learn more about Banza pasta, find our favorite shapes and get an exclusive discount code, visit eatbanza.com/didntijustfeedyou.
Order directly from our page and use our coupon code at the top of the page, or find where to buy Banza pasta near you.
---
Get Social With Us!
Be sure to join our Listeners' Group, which you can access via the Didn't I Just Feed You Facebook page. You can also follow us on Instagram as well: we're @didntijustfeedyou together, @staciebillis and @meghan_splawn.
What should Meghan call her followers?
If you liked this episode, here are some other Didn't I Just Feed You episodes you'll also love: