We dare you to ask us if every one of our 180 school lunches (per kid!) is inspired. You know better than to be baited like that, though, because, no, of course they aren't. But we know someone whose lunches ARE always inspired. And she's not a new mom either. In this episode, we tap school lunch packing master Gillian Fein of LaLa Lunchbox for all the tips on staying creative while packing lunchboxes. Because she's managed it for 10 years with 3 kids, so yea, we'll take whatever she's got.
—— GET YOUR EXCLUSIVE DISCOUNT CODE BELOW! ——
Inspiration can come from the Strangest Places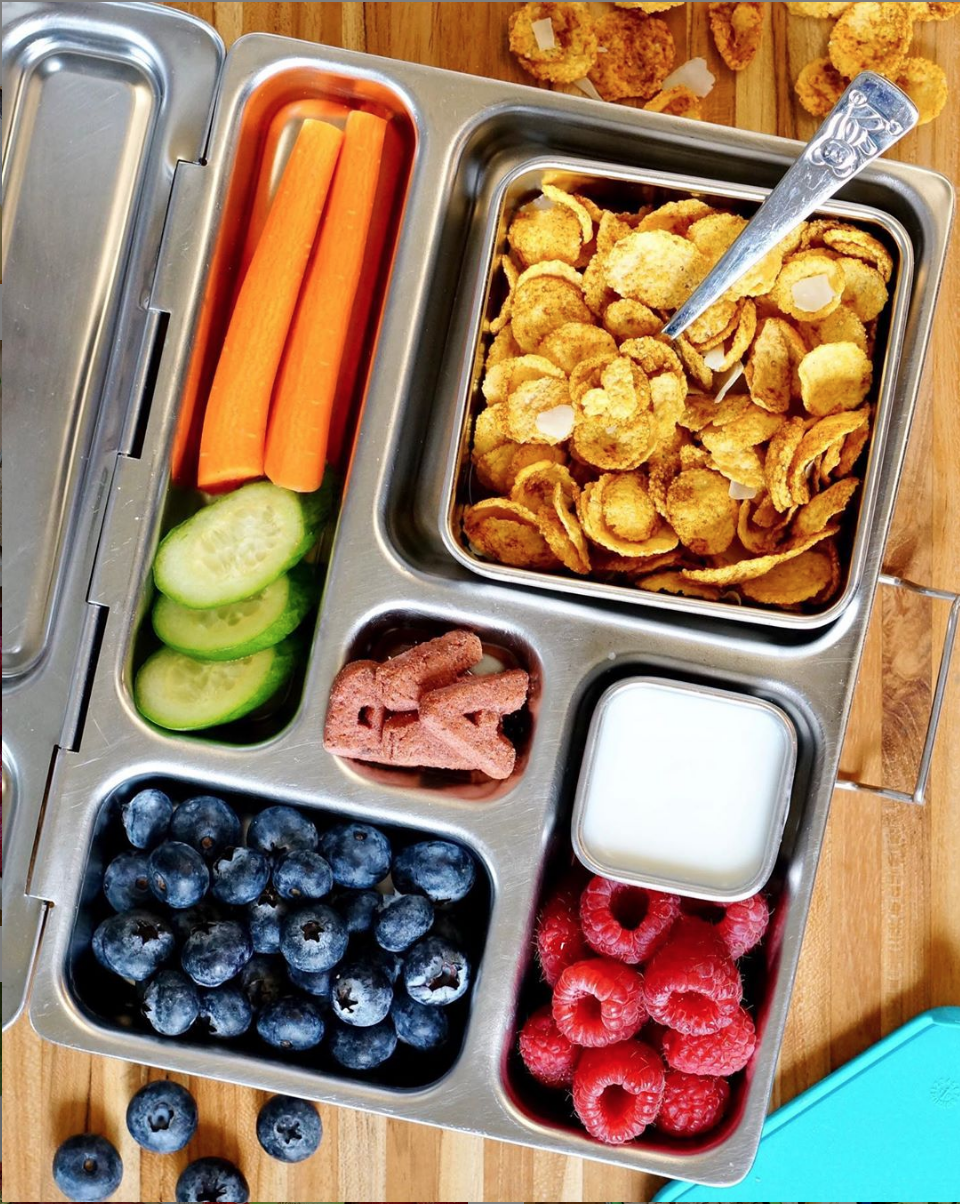 Did you know that you pack about 180 school lunches a year PER CHILD?! It's enough to make even a school lunch packing pro go crazy — ask us how we know. To keep all of us inspired, for this interview, we brought in a school lunch packing MASTER to share her tips on how to keep our kids' lunchboxes inspired all year long.
From how she gets her kids involved (surprise, it's not getting them to pack their own lunch!) to packing strategies that help keep her fresh, Gillian Fein of LaLa Lunchbox spills the deets behind her fantastically inspiring school lunch Instagram feed, @LaLaLunchbox.
Other resources mentioned in this week's episode:
---
About Our Guest: Gillian Fein
Gillian grew up in a cooking house – literally. Her mom is a food writer and cookbook author who ran a small cooking school, so cooking is part of how Gillian defines herself. And now, as a mom of three kids, providing delicious and healthful food for my family is paramount.
Gillian worked in healthcare for almost a decade after getting her MBA, and nutrition has always been her passion. When her oldest started going to school, Gillian started fielding loads of food opinions: lunch couldn't be too smelly, take too long to eat, or be too hot — oh, and not too cold either, please. (Sound familiar?) That's when inspiration struck.
To help engage kids in the lunch-packing process, Gillian created the FREE LaLa Lunchbox app (and now LaLa Breakfast too), which helps organize kids' preferences — as chosen by them! — in a way that makes it easier to pack well-balanced lunches that kids will be excited to eat.
Check out the app and be sure to also follow Gillian's absolutely gorgeous and crazy inspiring Instagram feed, @lalalunchbox. You can find your way to both and also grab recipes from Gillian at the LaLa Lunchbox site.
If you liked this episode, here are some other Didn't I Just Feed You episodes you'll also love:
---
Pasta Is Back!
This Week's Episode Is Brought To You In Part By Banza Chickpea Pasta
Have you ever wanted to reduce your carb intake? Do you sometimes worry that serving pasta (again) isn't providing your family with the nutritious dinner you want to serve up?
Well we've got a solution: Banza chickpea pasta
Banza pasta works, tastes, and feels just like regular pasta, which is the kid-win, but has nearly double the protein, three times the fiber, and 30% fewer net carbs, which is the mom win. It's also gluten-free, vegan, and non-GMO!
To learn more about Banza pasta, find our favorite shapes (that we've hand selected just for you!), and get your exclusive discount code, visit eatbanza.com/didntijustfeedyou. You can order directly from our page or find where to buy Banza pasta near you.
---
Snack Time!
This weeks' episode is brought to you in part by MadeGood Foods
Between school-safe snacks for lunch boxes, lower-sugar snacks to avoid the dreaded after-school sugar crash, and fortifying snacks to fuel after-school activities, it's hard to find products you can just grab and go any time, any day.
That's what makes our sponsor MadeGood so fantastic! Their products are free of the common allergens, made in a peanut- and tree nut-free facility, certified organic, and non-GMO.
Each individually-wrapped package also contains a FULL serving of veggies that you 100% cannot taste.
To learn more about MadeGood go to MadeGoodFoods.com and find out where to buy MadeGood snacks near you.
---
Get Social With Us!
Be sure to join our Listeners' Group, which you can access via the Didn't I Just Feed You Facebook page. You can also follow us on Instagram as well: we're @didntijustfeedyou together, @staciebillis and @meghan_splawn.