Being a fully functioning human at 6 am is hard. As much as the idea that "breakfast is the most important meal of the day" has been drilled into our collective consciousness, we just cannot deal with having to feed ourselves and our kids a healthy, scratch meal every morning. That's why, if you ask us, make-ahead breakfasts are critical to our kitchen game plan. Plus, they assuage that parent guilt.
Listen for all the tips and recipes to get the morning started off right — and quickly too. Back-to-school season or otherwise.
Better Breakfasts with Less Effort
You probably don't need convincing that having grab-and-go breakfasts on hand make life easier — especially during back-to-school season. But no one, not even us pro-cooks, wants to spend a whole Sunday meal prepping breakfasts.
Arewerite?
In this episode, we share our strategies for stocking your fridge and freezer with well-balanced, made-ahead breakfasts without busting our humps every week.
Listen for all of our suggestions and click over to any links we mention here:
Everything Comes Back to Breakfast
Other Didn't I Just Feed You episodes mentioned in this episode:
Related episodes you might want to check out too:
---
I LOVE IT!
"What We're Digging" Updated!
This week, Meghan is digging the e-book she got from Unyucky Families, The Flawesome Family Meal Book. It's perfect for family dinner inspiration and only costs $10!
Stacie is giving us high-protein vibes from both her recent cereal purchase AND a brand of pasta she's giving a second try. If you're looking for a high-protein, ZERO sugar (and keto-friendly) breakfast cereal, check out The Cereal School.
— UPDATE! Hop on over to our Instagram Stories to get Stacie's full review of the product. —
We also both had a chance to check out the new shapes and updated mac & cheese formula from Banza Pasta and Stacie is especially excited to have a high protein choice.
Lastly, Meghan gave us an update on her paper towel reduction plan that she mentioned in our episode on reducing waste in the kitchen. Spoiler alert: She's loving the Unpaper Towels she ordered from Dot & Army.
---
Your Next Listen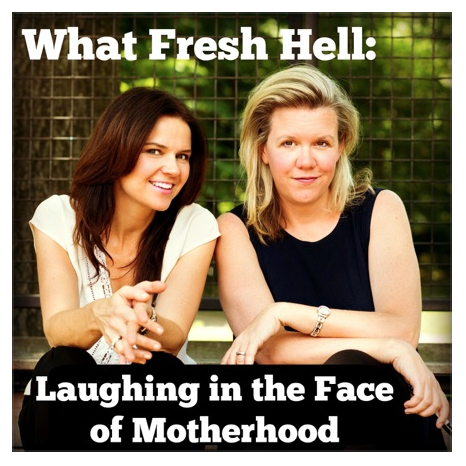 What Fresh Hell: Laughing in the Face of Motherhood
Amy and Margaret are both comedians and moms of three, but that's where their similarities end. Margaret is laid-back to the max; Amy loves lists, research, and planning ahead. In each episode of What Fresh Hell, they discuss a parenting issue from their usually opposite perspectives, plus their accompanying expert advice that may or may not back them up.
With episodes like Do We Really Have to Play With Our Kids? and Help! My Kids Won't Eat Dinner, we know you guys are going to love this listen.
Find Amy and Margaret as @whatfreshhellcast on Instagram and Facebook.
---
Join Our Community
If you haven't already, make sure to subscribe to Didn't I Just Feed You on iTunes are wherever you listen. Our back-to-school season is just getting started and there's lots of great content coming, a giveaway, and more.
We also want to see you in our private Listeners' Group which you can get to via our Facebook page. There, you can ask us — and hundreds of other listeners — any question you want, and answer some too. Because we know you know stuff. The answer to the question to join is whiskey or painkiller.
And don't forget Instagram! We're always there (#sorrynotsorry) sharing tips, recipes, and even funny anecdotes, because we're parents too. You can find us together as @didntijustfeedyou; Stacie is @staciebillis and Meghan is @meghan_splawn.