Welcome to season two of Didn't I Just Feed You!
In season one, we reflected on big, broad topics of feeding a family including: how to tackle picky eating (or perhaps letting go of trying to change your picky eater altogether), exploring American food culture and whether it's a part of the rise of picky and disordered eating, asking whether sugar is really the massive problem it's been made out to be, exploring whether meal planning is realistic for busy parents and how meal prep can help, and of course, getting tips on how to survive packing 180 school lunches every year. Those conversations will always be there for you, but in season two we're moving into the kitchen to get cooking.
Stacie and Meghan have identified the pain points that busy home cooks struggle with day in and day out, and season two is dedicated to solving those kitchen problems and building practical cooking skills that will help feed your family more easily, quickly, and affordably. Hopefully with more joy and fun too. (Hey, we ladies can wish.)
When thinking about how to save time, energy, and money, there was no question of how to kick things off: talking about the Instant Pot. And if doing a primer on the IP for busy parents, there was no question of who to talk to: Michelle Tam of Nom Nom Paleo. Here's everything you need to know about an electric pressure cooker and how to use it most effectively to feed a family.
A Culinary Time Machine
Alright, listen. We know: Everyone is crazy for the Instant Pot (which, by the way, is just a brand name version of an electric pressure cooker). Either you are already, too, or you're still resisting thinking: This thing isn't for me. Either way, this episode is for you. Here's why:
If you use your IP tons already… we hopefully can help focus you on how to use it most effectively to feed your family quickly and affordably. Plus, between the two of us and Michelle of Nom Nom Paleo, we shoot off tons of ideas, from Facebook groups you may not know about, YouTube channels, recipes, and so on.
If you think the IP isn't for you… well, so did Stacie, and now she uses hers constantly. Please understand that electric pressure cookers are not just for one kind of cook or cuisine or diet or type of food or kind of family. From cassoulet to taco bowls, from foodies who only trust the most esteemed food writers (ahem… Melissa Clark has written two IP cookbooks) to family cooks who rely on their IP to cook up frozen chicken + taco seasoning + salsa for the quickest taco bowls, this machine is a dream. And when you listen, you'll understand why.
Some important links that we mention in this week's episode:
Our Favorite Instant Pot Cookbooks
Dinner in an Instant: 75 Modern Recipes for Your Pressure Cooker, Multicooker, and Instant Pot by Melissa Clark
Comfort in an Instant: 75 Comfort Food Recipes for Your Pressure Cooker, Multicooker, and Instant Pot by Melissa Clark
The Ultimate Instant Pot Cookbook: 200 Deliciously Simple Recipes for Your Electric Pressure Cooker by Coco Morante
Skinnytaste One and Done: 140 No-Fuss Dinners for Your Instant Pot, Slow Cooker, Air Fryer, Sheet Pan, Skillet, Dutch Oven, and More by Gina Homolka
---
This Week's Guest: Michelle Tam of Nom Nom Paleo
If you don't already know Michelle Tam of Nom Nom Paleo, well, we'd be pretty surprised. Her award-winning site, Nom Nom Paleo iOs app, and best-selling books, Nom Nom Paleo: Food For Humans and Ready or Not!:150+ Make-Ahead, Make-Over, and Make-Now Recipes are wildly popular for a reason. Michelle's food is mouthwateringly good, and you guys know it. We do, too, because we cook her recipes all the time. And here's the thing:
We're not paleo.
Michelle's an inspired, practical home cook, who happens to also be a busy mom of two boys. For this reason, her recipes resonate way beyond the paleo community, and she happens to be an Instant Pot goddess too. Not sure she'd put it that way, but we firmly believe she should wear the crown. Here are some key links from our chat with Michelle:
Michelle has seven Instant Pots. SEVEN!

Her favorite for herself is the Instant Pot Ultra (6 quart) and for beginners is the Instant Pot Duo Plus (6 quart)

She introduced us to this guy and ZOMG how did we not know about Pressure Luck?!

And also, you have to listen for her tip about the lid, because apparently many didn't know. Your mind may be blown.

Michelle mentioned her Paleo Potsticker recipe and, if you're paleo, you should bookmark it STAT.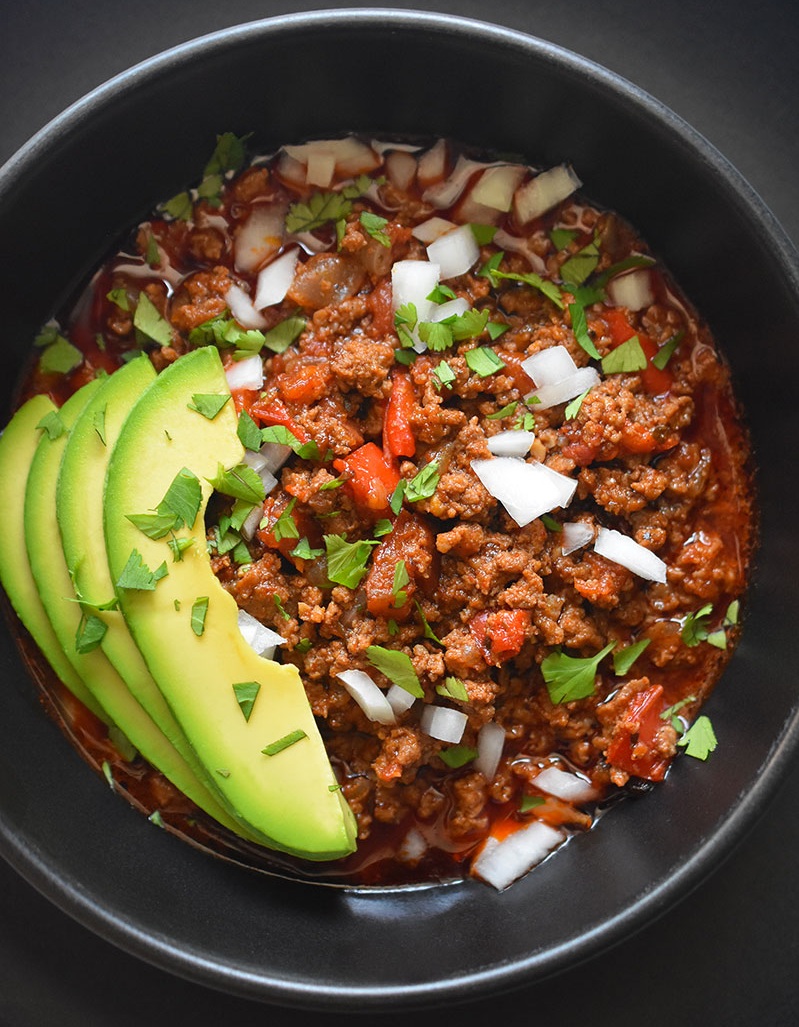 Michelle's three favorite things to cook in her Instant Pot
Kalua Pig on Nom Nom Paleo: We're obsessed with this recipe, too, and it's been written about all over the recipe. You must try it. It's so versatile and can be used for anything from tacos to stir fry.

Soup: Yes, just generally speaking, SOUP. Listen for details, because Michelle walks us through how she builds a soup in the Instant Pot using what ever is in her refrigerator.

Hard "Cooked" Eggs: This is one of our favorites, too, and if you listen to our chat, Michelle talks about how she answers the question about why she prefers using the IP over a pot even though, overall, the timing is about the same (when you factor in the time it takes the IP to come to pressure).
Stacie added an honorable mention from Nom Nom Paleo, because it's a recipe that she and her family love so much: Instant Pot Ground Beef Chili (pictured). It has a very special secret ingredient that makes ALL the difference. Do not be afraid.
Aside from her site, you can also find Michelle as @nomnompaleo on Instagram, Facebook, Pinterest, and Twitter. You can also grab here One and Done 2019 Nom Nom Paleo wall calendar!
And perhaps MOST IMPORTANTLY, though she may not always get a chance to update it daily, Michelle maintains an Instant Pot deal page where she watches out for IP sales.
*Note that some Nom Nom Paleo affiliate links have been included.
Pantry Challenge
Did you listen to this week's episode and hear about the awesome FREE pantry challenge about to go down?
Get the details and sign up at Mom's Kitchen Handbook, where our good friend Katie explains the challenge that she and our other pal Sally of Real Mom Nutrition have put together.
The basic rundown? Starting January 12th, you'll get a weekly email with tons of strategies and free printables to help you take inventory, plan meals, and re-organize your kitchen. You'll also get access to a private Facebook group with Katie, Sally (both nutritionists!) and the other participants.
And, yes, it is seriously all FREE.
Genius Instant Pot Recipes
You'll often hear us say that recipes aren't a magic bullet, because our hope is to teach and inspire you to feel confident enough to riff in the kitchen.
But we know that for many of you, the rubber hits the road with a quick, easy recipe that everyone in the family is willing to eat. THAT is what makes you a happy cook.
SO… these are the things that we think every family cook should know how to make in their electric pressure cooker.
How to Cook Eggs in An Electric Pressure Cooker (also see Michelle's method on Nom Nom Paleo)
How to Make Fast, No-Soak Beans in an Electric Pressure Cooker
How to make Yogurt in the Instant Pot (using yogurt as a starter; when you have a yogurt button; there's also this more involved version if you want something highly tested)
How to Make Instant Pot Yogurt (using a culture; when you have a yogurt button)
Instant Pot Spaghetti with Meat Sauce
Pork Shoulder (listen for deets on how to cook; Stacie uses these ingredients for Carnitas)
All manner of curries (listen for tips)
Whole Spaghetti Squash in the Instant Pot
Corn on the Cob (listen for details and a genius tip)
Ribs (listen for tips)
Food Emoji Game!
Who do you think used these 3 food emoji last: Michelle, Stacie, or Meghan? Listen to the end of this week's episode to find out. The other two ladies reveal their latest food emojis, as well, and WOW the insight.
If you listen to the end, you'll also get the answer to the question that will get you access to our private Didn't I Just Feed You Listeners Facebook group, which we'd love for you to join. So see you there? XO