Mention meal prepping and visions of organized, type-A cooks willing to spend entire Sundays in the kitchen dance in our heads. We imagine big pans of enchiladas to freeze and bubbling vats of soup, perfectly portioned lunches readied for grabbing and stir-fries needing only reheating. It sounds lovely for Monday through Friday, but who has the time or energy?
But is this really what meal prep is about? Is this really what it takes?
We chatted with the queen of meal prep, Tracy Benjamin of Shutterbean, to find out. Because we had a feeling there might be a different way.
As it turns out, just like with meal planning, there are several different ways to approach meal prepping. And if you find the one that's right for you, you might even start to think about it as a form of self care. Go figure.
Don't Hate Her Because Her Meal Prep is Beautiful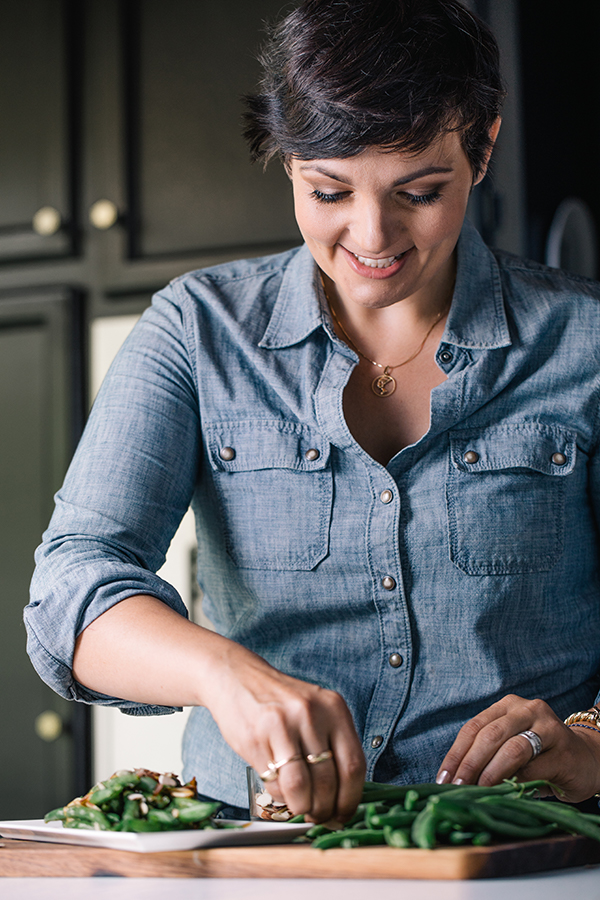 We were over the moon to chat with Tracy Benjamin of Shutterbean who, besides being a fabulous person, is also a master meal planner. No big trays of enchiladas. No vats of stew. No Sunday afternoon assembly line cooking. Rather, Tracy's a busy working mama who strives to find pockets of time during the week when she can prep practical ingredients that help make dinner faster, easier, and healthier. Her approach, which she shares in detail, is smart and realistic: Just what we parents need.
Tracy explains that she primarily focuses on a) veggies, b) ingredients for salads, and c) bulk grains like rice and quinoa, all of which can come together to form the base of a wide variety of meals throughout the week. From there, Tracy will also prep some easy recipes depending on what's in her fridge: a quick soup, hard boiled eggs, toasted nuts and coconut, roasted drumsticks.
It's a simple equation for Tracy. What's on hand + what she has time to make + what can be done at once. If the oven's on to roast drumsticks, then she'll also roast those tomatoes that are starting to wrinkle (to toss with pasta) and those fingerling potatoes too (to serve with those drumsticks).
Listen to this week's episode for tons of practical tips and specific ideas, from the key recipes through which Tracy alway rotates, including her Reset Button Salad (pictured below), Mint Iced Tea, and Tuna Salad, to how she keeps track of what her family loves and her favorite storage containers. Because storage is key for meal preppers.
And then be sure to follow Tracy: Her fantastic blog is Shutterbean and don't miss her gorgeous Instagram (Instagram.com/shutterbean). There you can follow the hashtag #ShutterbeanMealPrep to get meal prep ideas. And if you fall hard for her handwriting style the way we have, you can also check out her Etsy shop, The Handwriting Club (also @thehandwritingclub on IG).
Chop. Chop. Om.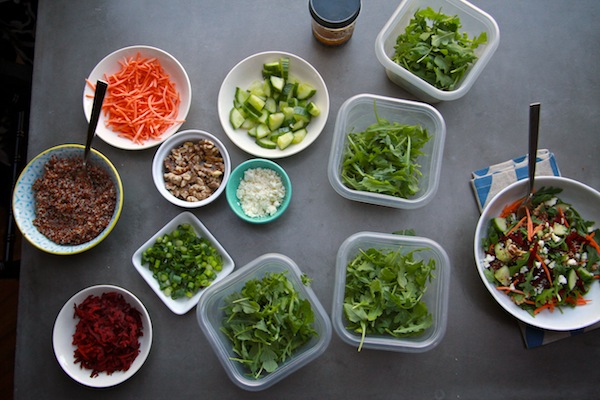 We are in no way suggesting that you replace your manicure, massage, girl's time out, evening glass of wine, or whatever you do to take care of yourself with meal prepping. BUT what if you shift your mindset to consider you time prepping in the kitchen as an investment in helping your future self?
Does that help make the effort worth it? Does it help motivate you to figure out a meal prep approach that fits your schedule?
And even if it does, do you think it counts as self care? Meghan asked Tracy about this and they were on the same page. (Can you guess which one?) Stacie agreed, too, but wondered if someone who hates cooking could really consider it self care. The conversation got interesting, and we think you meal plan/prep haters will especially thing so. Listen and tell us!
Give us a shout on our Instagram (Instagram.com/didntijustfeedyou) or Facebook (Facebook.com/didntijustfeedyou) pages. You can email us at hello@didntijustfeedyou.com, too, if you want. We want to hear from you!
---
We Love Our Sponsors
A big thank you to One Potato and Elmhurst for sponsoring this week's episode and for generously sharing discount codes to our listeners. Read below for more!
One Potato is the first organic meal delivery service made with families in mind. Each week, One Potato delivers semi-prepared ingredients like chopped veggies, prepped sauces, and sometimes even cooked, shredded chicken that come together to make meals that both kids and parents love in no time flat.
Each week, you can choose to receive 2 or 3 meals from 10 options, including gluten- and nut-free choices, and you can customize meals to your family's size. Also, every meal comes with tips on how to encourage kids to try new foods. Genius!
To learn more about One Potato, visit onepotato.com and use the promo code FEED30 for 30% your first box!
Stacie's a huge fan of Elmhurst. Because when you're a dairy-loving food writer who feeds a reluctant dairy-free kid, you get pretty serious about finding the healthiest and most delicious plant-based milks on the market. And if you ask her and her son, Elmhurst is it.
Elmhurst plant-based based milks have more nutrition and whole grains than other leading brands and are made without gums, emulsifiers, or carrageenan. Their nut milks have four times the nuts and nutrition compared to other leading brands, and their oat and brown rice milks have a whopping 20 grams of whole grain per glass!
Most importantly, Elmhurst tastes delicious. Even the dairy drinkers in Stacie's family are fans. Good thing all the varieties come in shelf-stable packages so that she can easily stock up. If you want to do the same, use the code HUNGRY for 20% off your next order at Elmhurst1925.com.
---
What We're Digging
Yup, it's a little shameless, but this week Stacie's digging her very own cookbook, Make It Easy. (She also mentioned her new site StacieBillis.com which — ack! — hasn't launched yet. Soon. Promise!)
Here's the deal: She just returned from a long trip to Turkey and is super jet lagged. Plus, school starts this week. When things get crazy like this, Stacie turns to her easiest tried-and-true recipes, which she documented in Make It Easy. So instead of meal planning this week, she'll be making her kids' favorite recipes from the book including her Cold Soba Noodle Salad, Thai Chicken Burgers with Quick Pickled Carrots, and Pasta with Spinach Pesto and Green Beans.
Then, back to proper meal planning — shared with the whole family per Meghan's challenge from last week's episode — starting next week.
---
It may be September, but it's still hot, hot, hot, and Meghan is digging WTRMLN WTR cold pressed watermelon to get her hydration on.
This electrolyte-rich cold pressed juice is not only super hydrating, but it's also super tasty without any added sugar. You can add tequila, though, which of course, Meghan finds a major bonus. Healthy, hydrating and sharable with the kids during the day, an easy, light, skinny watermelon margarita with nothing more than some booze and fresh lime juice at night. Perfection.