Every single one of us is looking for a magic fix that will get rid of the daily stress of feeding our families when dinner time strikes, but is meal planning truly the answer? In this week's episode, we're diving deep into the good, the bad, and the sometimes annoying work of meal planning. Meghan, our meal planning maven, talks us through her own journey from loathing to loving meal planning, and how the concept sparked a Meal Planning Club that fosters community for busy parents.
Meanwhile, Stacie basically wrote her whole cookbook on the premise that not everyone loves (or, hey, even likes) meal planning and shares how she uses meal prep and meal planning together to make dinner time less stressful every week.
Is Meal Planning the Magic We're Told it is?
The short answer is: Yes! To it being magic. (Period. Not light or dark.)
The longer answer is that meal planning can alleviate the anxiety of answering the much harder question: What's for dinner? every single night. But only if you make it work for you. (You knew there was a catch, right?)
Meal planning and meal prep are both pretty magical, actually (again, not light or dark, just depends on what works for you; and sorry about this weird light/dark magic metaphor that's barely working). They can work together or you can use just one. And whether or not you use them in tandem, both are an excellent way to get a jump start on your weeknight dinners, a handle on your grocery budget, and to reduce waste.
The basic idea behind meal planning is to sit down once a week and plan out meals for five to six days at a time (seven if you don't budget for eating or ordering in), accounting for ingredients that you have to use up, nights that you'll eat out, evenings when you might need to make dinners on the go because of sports practices, and so on.
Meal prep, on the other hand, is taking some time early in the week to chop vegetables, cook soups, shake up dressings, or pre-cook pasta so that your fridge is packed with prepped ingredients that gives your cooking a head start on some — or all?! — of your dinners.
While Meghan is an unapologetic master meal planner, Stacie talks us through being in a transitional phase. She's moving from being a meal planner to a meal prepper because of her boys' changing needs and schedules.
It's actually pretty interesting: She realized on the fly that meal prep might be a much better approach for a family with older kids. What do you parents with older kids think of that? Listen and give us a shout on Instagram (Instagram.com/didntijustfeedyou), Facebook (Facebook.com/didntijustfeedyou), or email us at hello@didntijustfeedyou.com.
How to Meal Plan From Someone Who Hates to Meal Plan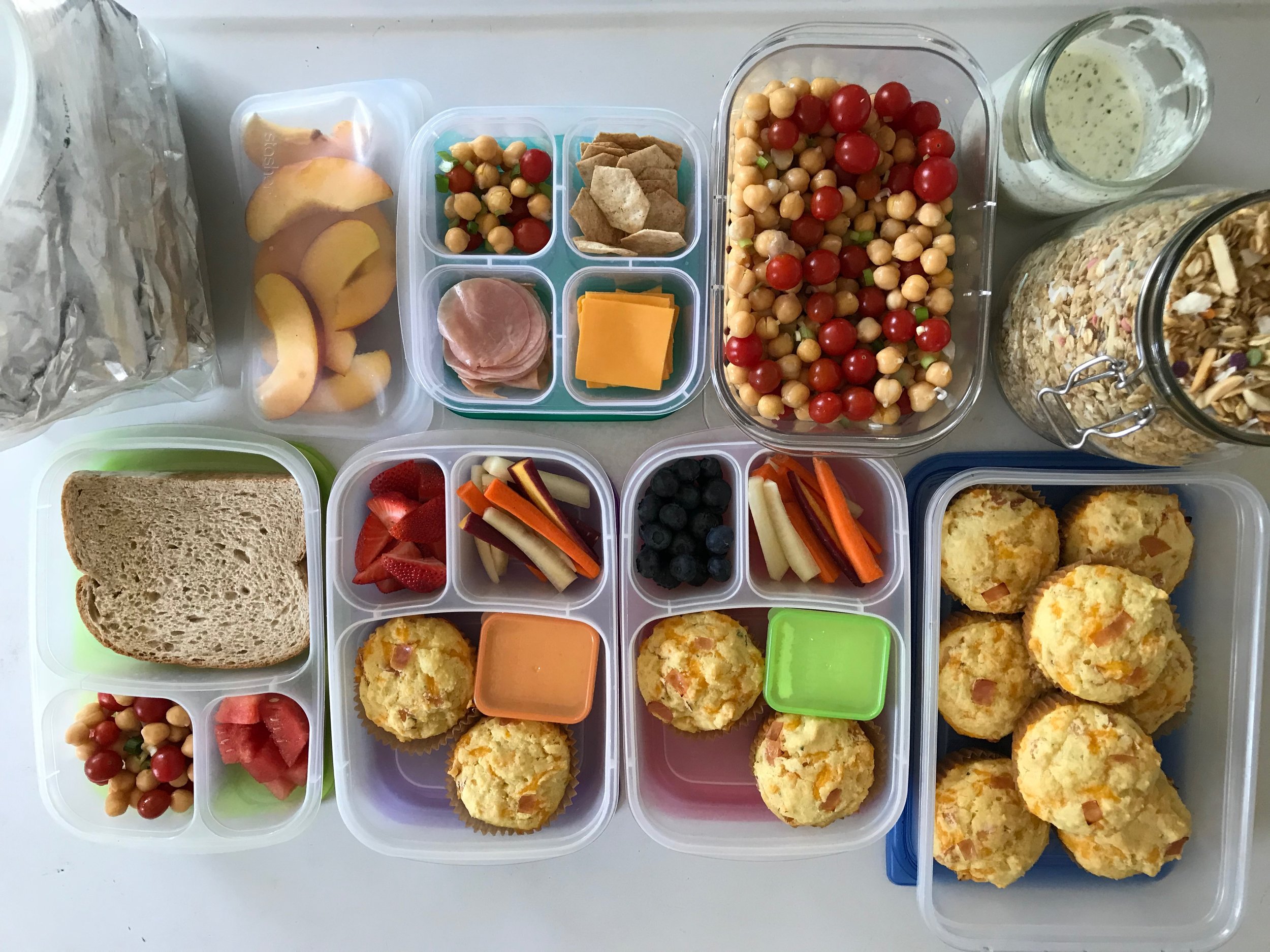 Stacie basically wrote her whole cookbook Make It Easy: 120 Mix-and-Match Recipes to Cook From Scratch–With Smart Store-Bought Shortcuts When You Need Them around the idea that most of us don't love meal planning or even cooking every night. Surprise! Some nights we use grocery store shortcuts (or even meal kits!) to get dinner done, because even as food professionals we'd much rather dream up fun dinner parties or creative story pitches than feed our kids every night.
We talk about how repetition and adventure are both key to keeping the magic in meal planning and meal prep too. So take a listen, because food professionals: Even when we meal plan, we're just like you!
Here's everything that we promised to share from this week's episode:
And, hey, after you listen, be sure give us a shout on the @DidntIJustFeedYou Instagram feed to tell us how you meal plan or meal prep.
---
We Love Our Sponsors
A big thank you to Elmhurst and One Potato for sponsoring this week's episode and for generously sharing discount codes to our listeners. Read below for more!
Stacie's a huge fan of Elmhurst. Because when you're a food writer who feeds a reluctant dairy-free kid, you get pretty serious about finding the healthiest and most delicious plant-based milks on the market. And if you ask her, Elmhurst is it.
Elmhurst plant-based based milks have more nutrition and whole grains than other leading brands and are made without gums, emulsifiers, or carrageenan. Their nut milks have four times the nuts and nutrition compared to other leading brands, and their oat and brown rice milks have a whopping 20 grams of whole grain per glass!
Most importantly, Elmhurst tastes delicious. Even the dairy drinkers in Stacie's family are fans. Good thing all the varieties come packed in shelf stable packages that keep in your pantry so she can stock up. If you want to do the same, use the code HUNGRY for 20% off your next order at Elmhurst1925.com.
One Potato is the first organic meal delivery service made with families in mind. Each week, One Potato delivers semi-prepared ingredients like chopped veggies, prepped sauces, and sometimes even cooked, shredded chicken that come together to make meals that both kids and parents love in no time flat.
Each week, you can choose to receive 2 or 3 meals from 10 options, including gluten- and nut-free choices, and you can customize meals to your family's size. Also, every meal comes with tips on how to encourage kids to try new foods. Genius!
To learn more about One Potato, visit onepotato.com and use the promo code FEED30 for 30% your first box!
---
What We're Digging
Meghan just wrapped up 30 screen-free days of summer with her two kids (bless her!) and shared her favorite resource for ideas and recipes to make everything from slime to bathtub paint: 150+ Screen Free Activities for Kids. Plus, she told us why taking away their tablets made her actually like her kids again!
Preparing for her big trip to Turkey and back to school on the heels of international travel, Stacie is digging a new-to-her kids vitamin Renzo's.
Do you taste your kids vitamins?! We want to know. These vegan multi-vitamins actually taste great and come in 4 melty tabs formulas from everything from picky eaters to the classic vitamin D. Fantastic!
---
Try This At Home
Find that recipe you've saved but put off cooking and do some prep for it this weekend. We're more likely to cook if we've already spent money on ingredients and done some of the work.
Yes, even on Wednesday night.