Welcome to our special Mother's Day episode, brought to you by Milk. Love What's Real.
If you're familiar with us, you already know that a special Mother's Day episode is going to bring the realness. While we may debate the merits of celebrating the holiday at all, we also realize that finding joy and opportunity for celebration wherever we can find them is as important as ever. This week's conversation with chef and former Top Chef contestant Claudette Zepeda was an important reminder of our privilege and the opportunity we have this Mother's Day to share family traditions and even create some new ones with our kids.
This post contains affiliate links, we may make a small percentage on products we recommend.
Keeping Mother's Day Traditions and Heirloom Recipes Alive
We admit it: we're only just now shifting our perspective on Mother's Day this year. Before we partnered with Milk Life, we figured this would be just like any other holiday: another opportunity for us to have a regular ol' episode.
See, we've rarely done special holiday episodes, and given the global pandemic, we hardly felt this was the time to start. That is, until our friends at Milk Life reached out to express how much they wanted to honor moms, who are all working even harder than usual this year.
That was something we could be a part of.
From moms who are essential workers, leaving their children behind to help the rest of us, to moms who are feeding their children multiple times a day while working from home or, even harder, while wondering when they'll be able to work again, moms are working overtime. No massages (if that was ever in the cards) this year. Time off seems impossible. Breakfast in bed might happen, but OMG the same bed, bedroom, house, we've been in for weeks and weeks without break.
As we thought about it, it became clear: this wasn't a year to skip a celebration, it was a year to lean into one. But differently. In a way that may not give us a break from our families — something that's literally impossible these days — but rather helps us reflect on how our families and our motherhood came to be.
Maybe this year, it's about embracing motherhood, not taking a break from it. And what better way to do that than by sitting around a table eating delicious passed down recipes with the people you love most — even if you are a little tired of them (ha!).
Here are the links mentioned in this week's conversation:
---
Commiserate With Us!
Be sure to join our private Listener's Group on Facebook (our favorite cocktail is WHISKEY — you'll understand when you try to join). This week, celebrating (or maybe postponing?) Mother's Day is a HOT TOPIC.
Also, don't forget to sign up for our newsletter to make sure you don't miss a thing. This week, we will be sharing the recipe for our Whipped Chocolate Milk. Because in the spirit of embracing motherhood — and perhaps creating new family traditions — we've come up with a caffeine-free twist on the Dalgona coffee craze.
You can also find us at @didntijustfeed you on Instagram, Facebook at large, and Pinterest. And if you happen to love us as much as we love you (because y'all are very real), you can find Meghan as @meghan_splawn and Stacie as @staciebillis on Instagram.
---
We Love Our Sponsor, Milk Life
Milk is among the most essential ingredients in both of our kitchens. Proof? Both recipes for this special Mother's Day week are milk based! So we couldn't be more excited to team up with Milk. Love What's Real for this very special Mother's Day episode!
From the comfort of warmed milk when your kiddo can't fall asleep to DIY pink milk when they need a pick-me-up, milk is the ultimate comfort food, and we feel it these days more than ever.
Visit MilkLife.com for recipes made with real milk, and be sure to follow @milk on Facebook, @milklife on Instagram, and @milklife on Twitter to get more tips and cooking inspo. Don't forget to use #LoveWhatsReal!
---
This Week's Guest: Claudette Zepeda
Claudette Zepeda is a San Diego-based chef named a James Beard Best Chef West semifinalist. She's been written up in the NY Times, Esquire and many more major publications as a notable best chef. Known for her fearless culinary style and bold approach to regional Mexican cuisine, Zepeda was a member of Buzzfeed's inaugural Tasty talent program and former Top Chef Season 15 + Top Chef Mexico competitor. She continues to find inspiration from her frequent travels around the world and threading the quilt of human connection through food.
Find more from Chef Claudette
---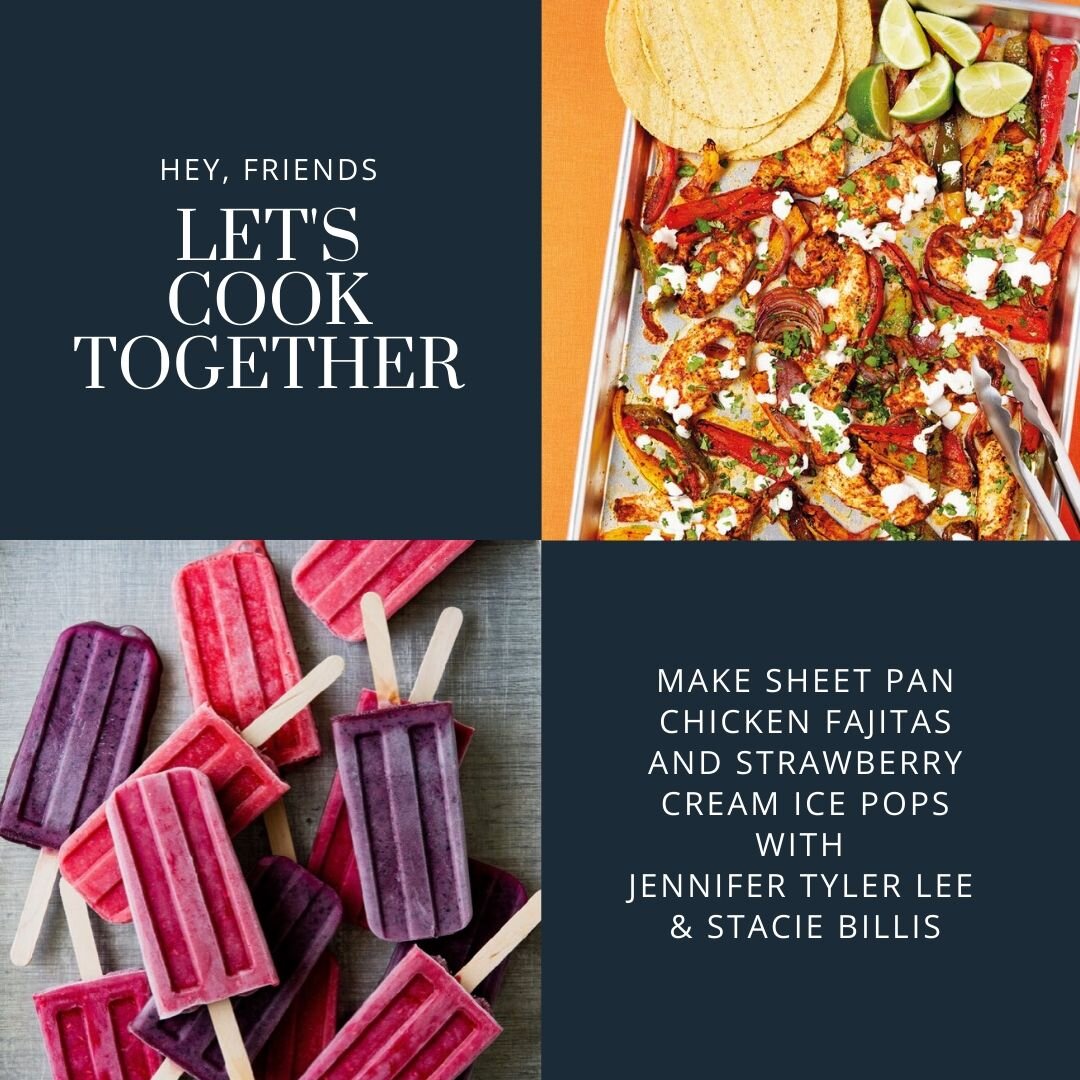 Cook with Stacie for a Good Cause
On Friday May 8th, Stacie will be cooking LIVE with favorite DIJFY guest, Jennifer Tyler Lee. Not only can you join, but the price will get you e-book versions of both of their cookbooks (Winner! Winner! Chicken Dinner and Half the Sugar, All the Love), and…
100% of the proceeds go to No Kid Hungry.
You'll walk away from the webinar with dinner and dessert made, plus they'll be doing a giveaway and even have a bonus recipe to share.